DiVino may earn commissions from qualifying purchases.
Traditional Symbolic Foods. Fried
Raise a glass to the miracle of light.
Hanukkah is a time to celebrate with loved ones over heaping plates of traditional symbolic foods, many of them fried in a tribute to a legendary tale.
Hanukkah tradition varies throughout the world and takes cues from local flavors and nostalgic recipes that persist among the Jewish diaspora. Oil and deep frying are a common thread.
Following a battle with the Greek-Syrian army to liberate Jerusalem, the Maccabean army found their temple strewn with idols and the eternal flame barely flickering. Instead, the sacred oil burned for eight days, just enough time to sanctify a new batch and keep the temple lamp aglow.
Food and Wine Pairing Like a Pro
At its heart, Hanukkah is a story of light conquering darkness, but for our purposes, it's all about traditional fried foods and what wine to pair with them.
A sommelier approaches food and wine pairing by analyzing both aroma and flavor as well as the textural elements of the food. A perfect wine pairing enhances the flavors and creates a balanced experience on the palate.
Fried foods can leave your mouth feeling glossy, which makes it harder for delicate flavors penetrate to the palate. It's also uncomfortable. Wine and food evolved together, in part because the acidity in wine aids in digestion, starting by skimming the palate of greasy sensations.
Sparkling Wine and Fried Foods
In addition to acidity, effervescence, the CO2 that gives sparkling wine its bubbles, also helps to polish that unctuous feeling from your palate.
Wine makes food taste better. When the food makes the wine taste better that's a food and wine pairing miracle to celebrate. Read on for a list of our Hanukkah food and wine pairing recommendations and why they work.
Latkes
The Ashkenazi classic Latkes, fried potato pancakes are often topped with sour cream, apple sauce, or smoked salmon. Condiments should play into your wine pairings
While your first instinct might be a sparkling wine, the original Latke with sour cream and apples works with a regional pairing, like a classic dry Riesling from Austria or Germany.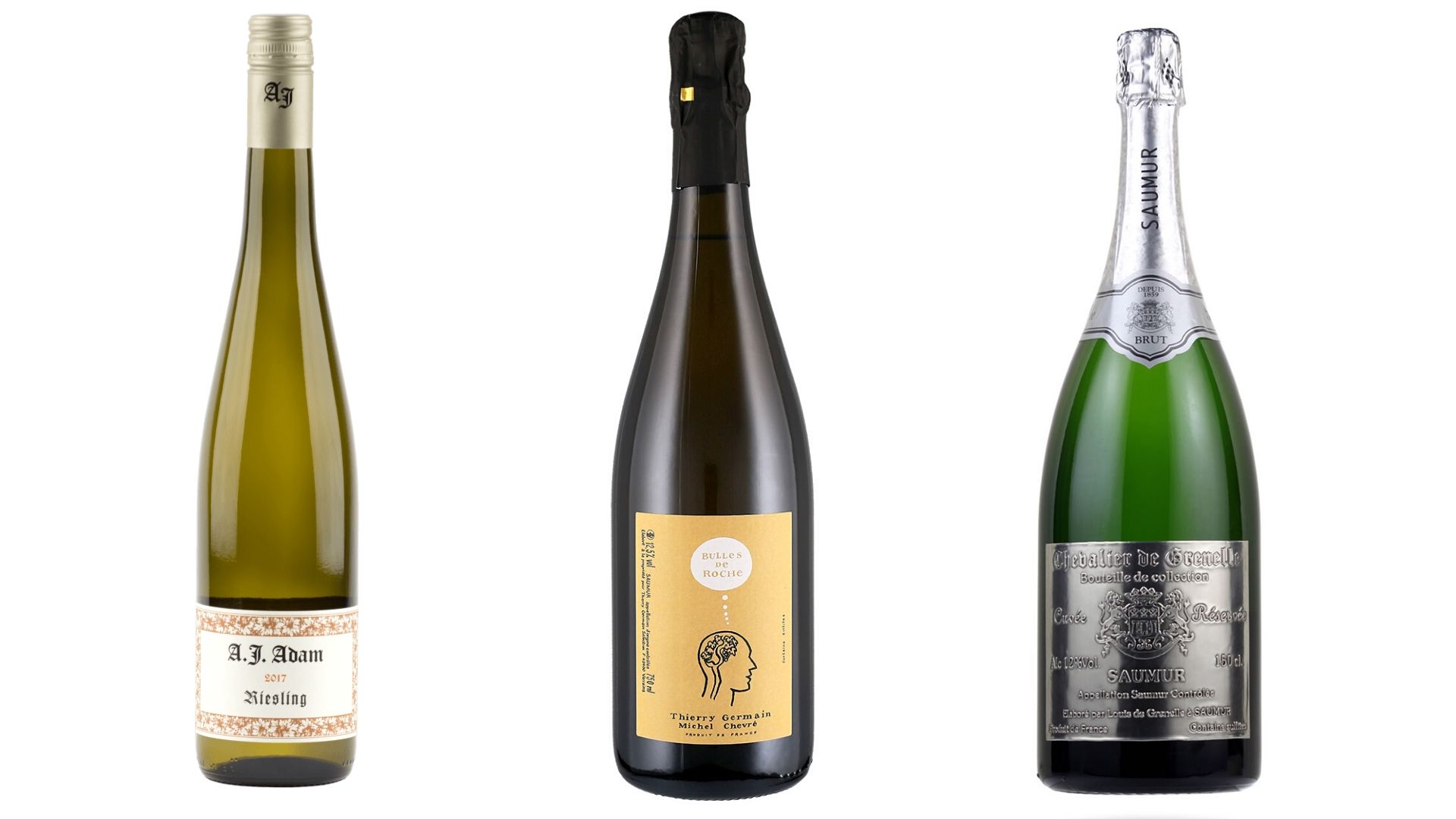 Dry Riesling
A.J. Adam, Riesling Trocken (current vintage)
The Alpine-y quality draws out the pretty apple flavors, while acidity slices straight through the fried potatoes and cream. A long, mouth-watering finish also leaves your palate ready for another bite.
For the purist who savors her latkes naked, try a Crémant de Loire.
Crémant de Loire
These are classic method wines (Champagne method) made predominately from Chenin Blanc, which is known for its sumptuous aromas of honey, pear, chamomile, and white flowers. Crémant finishes bone dry and clean, but the added fruit notes will add dimension to each bite
Try: Thierry Germain "Bulles de Roche" Saumur Brut NV
Find it online.
Chevalier de Grenelle – Cuvee Reserve Brut NV comes in Magnum size (1.5 L).
Try a kosher Crémant d'Alsace!
You'll finish it.
Champagne
Traditional method, or Champagne Method wines might be too much unless you're topping your latkes with lox or caviar. We recommend a very balanced brut.
Try: Champagne Thiénot, Champagne Brut (NV).
It's made from a classic champagne blend of Chardonnay, Pinot Noir, and Pinot Meunier. Maison Thiénot is one of the smallest in existence. Family-owned and operated, the focus is on quality over quantity. The nose is filled with fresh spring fruit notes, but the wine is aged at least four years prior to release, so the wine has had some time to relax.
Kosher Champagne
Kosher wines have come a long way! Even renowned Champagne maison Laurent Perrier created a Kosher version of their rosé Champagne.
The recipe starts simple, but every family has developed their own, and this is mine, enhanced with fresh sage, lemon zest, and cayenne for a zesty zing and an earthy Mediterranean flavor.
Download our family Latke recipe.
Lambrusco
The oft-maligned sparkling dry red wine from central Italy is a fantastic option as a Latke pairing, especially if you plan to top them with Pastrami. Lambrusco is the wine of choice for cured meats, and that's no surprise. Emilia-Romagna, the regional home of Lambrusco wines is also famous the world over for Prosciutto di Parma, AKA Parma ham.
Lambrusco may be a red wine, but always served chilled. It have bright and slightly wild notes of ripe berries and dark flowers. It even be a little musky, and animalic, which completely underscores the meaty aromas of deli meats like pastrami and corn beef. The bright acidity and piquant, if delicate effervescence help sweep grease from your palate in miraculous way.
Try: Lini 910 Labrusca Lambrusco Rosso
Find it online.
Israeli-style Sufganiyot (Jelly Donuts)
These fluffy, brioche-style donuts, stuffed or unstuffed are delicate in flavor. Although they are indeed fried, the wheat-based batter absorbs quite a bit of the fat, compared to the potato latkes, and the double leavening adds lift and lightness. Don't massacre the dish with an abrasive fizz or excessive acidity. The two frequently go hand-in hand.
Franciacorta Satèn
Satèn is a slightly lower pressure style of classic method wine designated as part of Italy's Franciacorta DOCG classification.
Try: Mirabella Franciacorta Satèn
Shop Franciacorta online.
It's made from 100% Chardonnay, a small percentage of which has been aged in French oak barrels. The wine remains on the lees in the bottle for 36 months. The nose is hints at tropical fruit and the barest suggestion of vanilla. On the palate the wine is clean, with an elegant and fine fizz.
Prosecco Superiore
When you need some bubbles (but not too many) and a balanced palate, a brut or extra brut Prosecco Superiore will do the trick. Prosecco Superiore carries the DOCG stamp as they are grown and produced at higher altitudes with limited harvest yields and site-specific, sparkle-friendly terroir. They finish dry and crisp but still embody the apple-pear, fruit-forward quality Prosecco is known for.
Try: Adami, Bosco di Gica Prosecco di Valdobbiadene Superiore Brut (NV)
Bimuelos
Orange-scented, honey-drizzled Bimuelos (fritters) from the Spanish Sephardic tradition are sweet, sticky and aromatic. Remember the goal is balance. That is why sommeliers often pair dessert with dessert wines or off dry wines. Harsh acidity or abrasive bubbles would clash rather than compliment. That said, sometimes a dry wine is a refreshing reprieve from sweetness.
Moscato d'Asti
Moscato at its purest and most expressive, the DOCG regulations dictate a fresh and fizz wine, meant to be consumed in the year immediately following harvest.
Try: Michele Chiarlo Moscato D'asti DOCG
This is top shelf Moscato, bursting with notes of pink rose, and crisp apricot right off the tree.
Find it online.
Naturally Sparkling Wine like Pét-Nat or Ancestral Method
These wines are lighter on the fizz, but often have an earthy, nutty, almost cîdre-like quality to them. They're made by bottling the wine right before it finishes fermenting, and letting the remainder of the process take place in the bottle. They've often spent some extra time on the skins, which can give them a pleasant bitter finish.
Try: Claverach Farm Pét-Nat Rosé 2018.
It's made from local Missouri grape Chambourcin, co-fermented with Marsanne and Petit Manseng skins. The result is remarkably floral with light and refreshing honeydew notes.
They're very trendy at the moment, so ask your wine shop for a recommendation.
The Story of Yehudit: How Wine, Cheese, and Seduction Saved the Day
A lesser known traditional and symbolic Hanukkah food is dairy, specifically cheese.
This stems from another legend involving the brave and beautiful widow, Judith, who distracted a Syrian army general with her charm, strong wine, and a bountiful cheese platter, allowing the Jewish army to attack the Syrians and defend their city.
Sparkling Wine and Cheese Pairing
Honor this Hanukkah tale with a grand plateau de fromage! Sparkling wines pair exceptionally well with washed rind soft cheese like brie, camembert, and talegggio.