Sparkling wine pairs with food in wonderful and often unexpected ways! Whether you're drinking a Champagne from France, an Italian Franciacorta, or Spanish Cava, you'd be surprised at all the ways these traditional method wines work together with a variety of dishes.
Learn more about how sparkling wines are made.
Once you consider sparkling wines made in the tank method, like Italian Prosecco and Lambrusco, or ancestral method wines like Pétillant-Naturel (Pét-Nat), your options are wider still!
The same rules for pairing food and wine apply to sparkling wines. What you may not realize is how versatile bubbles can be.
How Bubbly is Your Bubbly?
When pairing sparkling wine with food, it is just as important to evaluate the sensory qualities of the wine as it is the food. We look at the basic ingredients and the preparation of food and evaluate the intensity of aromas and flavors as well as the textural elements like creaminess, fat, and weight on the palate.
When we evaluate sparkling wine, during the visual observation, we look at the effervescence, the bubbles themselves.
How big are they?
How tightly clustered are they?
How long do they last?
 Wines made in the Classic Method, like Champagne, Franciacorta, Cava, Crémant, as well as plenty of sparkling wines made in New World and emerging wine regions are extremely fizzy. The bubbles are tight, tiny, and last a long time. You can really feel them on your palate.
They tingle all throughout your mouth and the back of your throat. This sensation can be incredibly refreshing but also abrasive in excess. Balance is the key to pairing wines with exceptional effervescence.
Something else to remember is that when Champagne-style wines age, just like all other wines, the harsher components like acidity and effervescence start to relax. Sometimes a vintage Champagne is worth investing in, not only for a more balanced sensation on the palate, but also for the complex aromatic expression of wine that can take years to develop.
Give the bubbles something to work with.
Put their palate-cleansing power to good use. A blast of fizz could easily overpower the delicate flavors and texture of seafood carpaccio or a simple salad.
Triple cream Brie and similar cheeses are a very popular pairing for Classic Method wines.
The somewhat pasty, chewy creaminess of the cheese clings to the palate. When you introduce powerful effervescence other qualities of the cheese, like bloomy, earthy flavors have a chance to shine. The same goes for the wine.
Fried foods. Fried chicken and Champagne is one of those high-brow/low-brow pairings that we can't stop raving about. There's a lot of variety in the spice blend and even the texture the chicken itself, so it doesn't always jive. When it does, the bubbles skim that deep-fried feeling from your lips and let the flavors of the wine and that savory crust really sing.
Wines made in the Tank Method, like Prosecco, Spumante d'Asti, and Lambrusco come out of the bottle with plenty of bubbles and celebratory pop, but those bubbles are bigger, more spread out and don't last as long in the glass.
Throughout the Prosecco growing region in northeastern Italy Prosecco is often enjoyed alongside simple pastas and risottos.
Don't pit them against thick and creamy foods, but rather, salty, and a little fatty – like olives, peanuts, potato chips, cubed aged cheeses like Parmigiano and Asiago, bite-sized tarts and savory appetizers.
Prosecco is often enjoyed alone, but if you can't resist a bubbly when you're out for sushi, or Thai-style stir-fry with seafood, poultry or vegetables, or a banh mi sandwich, give Prosecco a try!
Lambrusco is an exception. It's one of the rare sparkling red wines, and the skins contribute an addition tannic structure to the wine that allows to stand up to all kinds of cured meats, cheeses, and even pizza. In fact, Lambrusco with pepperoni pizza is a masterful combination!
Ancestral Method wines are even lower on sparkling spectrum. That said, you should still consider the effervescence when pairing them with heavy or creamy dishes. They'll likely go flat. Alternatively, you can pair them much like a still wine, and think of those subtle bubbles along the same lines as acidity and tannin to help polish your palate.
Balance Aromatic Complexity and Body.
Sparkling wines are not all created equal. Don't be fooled by the fizz. Some are simple, subtle, quaffable pleasures, while others offer a blast of bright acidity and a mouthful of tight pearly bubbles. Some are glossier and sweet, others are aged and evolved to toasty, earthy complexity with notes of spices and dried fruit barely reminiscent of the fresh green apple, pear, and citrus or strawberry notes of young sparklers. Some of them of them even feel creamy!
For example, Macaroni and Cheese as featured in our video on Champagne and food pairings, is a truly quintessential pairing with the right sparkling wine. It's baked with sharp cheddar cheese, butter, and a little milk. It's more solid and sliceable than creamy.
This texture and crispy baked edges warrant a powerful effervescence for balance, but avoid anything too sharp or you might overpower those comfort food flavors.
The topping contains an Italian spice blend of rosemary, sage, oregano, thyme, and parsley. This herbaceous blend is both sweet and savory. DOWNLOAD THE RECIPE.
A wine with a medium-long finish, something clean but not overtly crisp or sharp will bring back a beautiful aromatic rinse of all those flavors. A subtle toasty note in something like a Franciacorta Satèn, with its slightly softer fizz will compliment every bite of this dish without losing any personality.
Try it on a Cracker.
Everyone is kicking carbs to the curb lately, but there's a reason so many rich and wine-friendly foods like cheese and cured meats, are so often served with bread. It's not just so the restaurant can charge you $20 for tiny cheese place and a heaping bread basket.
I learned in my sommelier school that bread works a cushion for flavor. Think about that. Yes, you sit on a cushion, just like this brie is sitting on a cracker. A slice of salami slowly melts onto a piece toasted crusty bread. A cushion also raises you up and makes you more comfortable.
When you have intense and palpable qualities in a wine, such as acidity, bitterness, tannin, and effervescence, and similarly intense qualities in food – like acidity, or even very full textural qualities, like creaminess or greasiness, a little bit of bread works as the middleman to raise up those flavors, and make them more comfortable on your palate.
Acidity is good thing. It keep the wine fresh, and our palates feeling clean, and it's very important for digestion. If your wine and cheese combination feels balanced in terms of intense flavor, but something is off in the texture. Consider a carb. Try it on a cracker.
How Sweet is your Sparkling?
The Europeans adopted a scale of sweetness for Champagne and sparkling wine labels.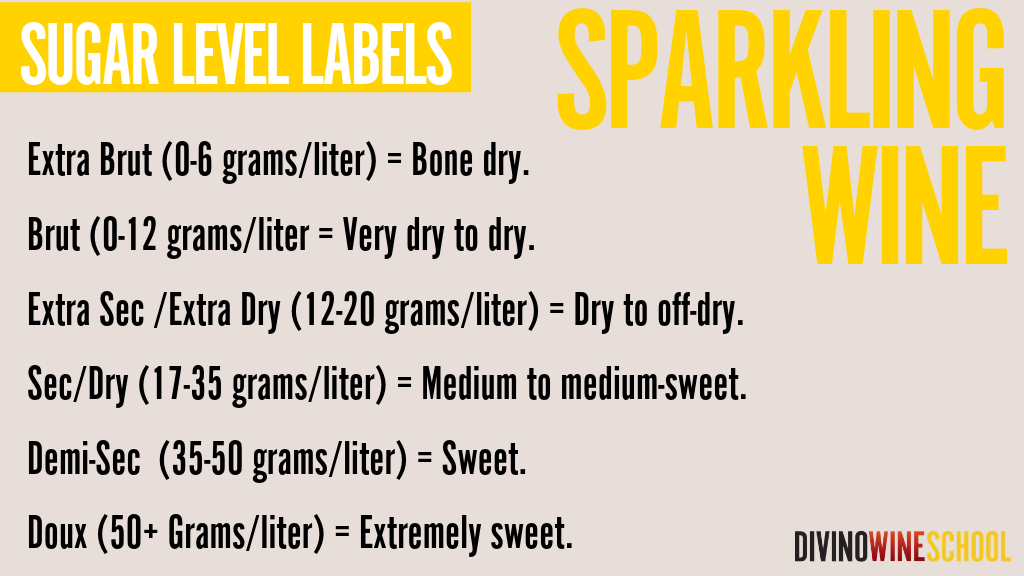 The amount of residual sugar in sparkling wine is an important factor when pairing them with food. You perceive sugar not only as a sweet flavor, but also as a smoother, silkier sensation on your palate.
Classic Method wines spend a lot of time on the lees, re-fermenting and building up all that pressure. During that time most of the sugar is converted to carbon dioxide. The majority of wine made in this method are Brut or extra Brut, but there are plenty of exceptions. It all comes down to the style the winemaker is going for.
Be aware that if you grab a Champagne, Crémant, a Cava or a Franciacorta it's likely to be quite dry. Off-dry and sweeter Champagnes do exist, and they are wonderful with desserts and cheese plates. The fizz helps balance the sugar, which makes an off-dry Champagne more versatile than you might think!
What's More Romantic than Champagne and Strawberries?
In concept, sure. But imagine all that dryness, acidity, and intense fizz alongside a tart berry! Same for a chocolate-dipped strawberry. You might think that the driest Champagne will help balance out the sugar. It will, but not necessarily in a good way. It could clash on your palate, which doesn't do any favors to the flavors of your juicy fruit and luscious chocolate. An off-dry or demi-sec Champagne is a much more harmonious pairing.
Don't worry, the acidity and bubbles will still temper that sweetness leaving every bite balanced with lingering fruit flavors and your palate yearning for more… What's more romantic than that?
The same goes for Tank Method wines that are sweeter, like Spumante d'Asti or a sparkling Moscato. Think of these kinds of wines like that dried apricot on the cheese plate. It's sweet still tingly, a beautiful balance to a whole spectrum of cheeses.
Less time re-fermenting means more sugar left over. Prosecco is NOT a sweet wine, but compared to most Brut or Extra Brut Champagne or other wine made in the Classic method, it might feel silkier taste a bit sweeter. That gives is slightly glossier texture and fruitier aromas pair deliciously with piquant spice blends.
If you must pair a drier sparkling wine with dessert take texture into consideration. Give your bubbles something to work with This will soften the palate and allow the flavors of your dessert to shine through.
Think of crème brulèe with all that nutty burnt sugar next to a toasty, vintage Champagne. Yum! Fruit tarts with a layer of pastry cream or custard with also balance out drier bubbles.
I featured Rice Crispy Treats in our Champagne and food pairing video and it really blew my mind! By the time the Champagne bubbles worked their way past all that chewy marshmallow the flavor of toasted rice was a lovely compliment to the toasty aromas in the wine!
How Long Does It Linger?
The finish on your sparkling wine is just as important as in still wines. What will be the lasting impression on your palate? Effervescence? A mouth-watering mineral finish? A fruity flavor? Sweetness?
Champagne, and Classic Method wines spend a lot of time in the bottle where they develop complex aromas that can even outlast their effervescence in the glass and on your palate. Champagne is particularly noted for the chalky, steely mineral aromas that come back with a bang on the finish.
Remember that when pairing these wines with food. What lingers? Could it compliment the flavors in your dish or will it overpower them?
Taleggio and mushroom risotto is a great way to experience a complex Classic Method wine like Franciacortà. The earthy qualities of the cheese and mushrooms keep returning and returning and the elegant effervesce makes every bite inviting. It's like the first bite over and over again!
Tank Method wines don't pack that same final punch. They're more joyful in the moment and best enjoyed with fresher, simple flavor combination. That makes them incredibly versatile.
Why does this work?
Prosecco is a very light-bodied wine with just enough effervescence to clean something simple from your palate. The fruity flavors and slight residual sugar balance salty flavors and bring out more of a dimension to them. If you really want to taste the earthy, buttery quality of a potato chip, even Lays, try it with Prosecco.
Sparking Wine Will Surprise You.
Don't be afraid to experiment with sparkling wines. If you truly take into consideration aroma, body, and balance, you cannot go wrong.
A very rare steak dressed only in butter will get lost in a robust red wine like Cabernet Sauvignon. Instead, a vintage Champagne will elevate the almost sweet and earthy notes of the meat, while toasty notes play off of the barely charred edges. Trust me.
Remember one of our rules for pairing food in wine is tradition and local flavor, which also applies to you! Drink what you like if it has always made you happy.