DiVino may earn commission from select online purchase links.
"All Champagne is sparkling wine, but not all sparkling wine is Champagne."
*As an affiliate marketer, DiVino may earn commission on qualifying purchases.
We've all been there. You find yourself at an art opening, an office holiday party, and or even wedding reception. Someone offers you a glass and asks if you'd like some Champagne. You say yes of course, and it's delightful. Festive, fresh and bright. It's a sparkling wine after all.
You like it so much, you glimpse the bottle on your way out or ask the host to show it to you. Lo and behold, the word Champagne is nowhere in sight. Instead, it's Cava, Cremant, or Prosecco. Possibly a Vino Spumante or a Sekt.
What did you just drink?
Is Prosecco Champagne? Is Cava Champagne? The world of wine is overwhelming as it is, and now we're adding bubbles to the situation.
What is sparkling wine?
Sparkling wine is just what it sounds like. It begins as normal still wine, and in one of several techniques ends up effervescent, with bubbles. These bubbles are made of Carbon Dioxide.
Watch our video on wine sparkling wine!
How is Sparkling wine made?
There are number ways to make sparkling wine and all of them start with still wine, or at least grape juice on its way to becoming wine.
During fermentation, the byproducts are two: alcohol and carbon dioxide. During fermentation for still wine the tanks or barrels are open on top or have a release system in place so that carbon dioxide can escape without allowing too much oxygen to enter the wine and oxidize it.
If you keep things tightly sealed the carbon dioxide has nowhere to go but back into the wine.
Four Ways to Make Sparkling Wine
1) The Soda Method
In this instance, the winemaker add Carbon Dioxide directly to the wine until it reaches the desired levels of fizziness and pressure levels. If you've ever had a soda stream machine it's pretty much the same. It's also the least expensive way to produce sparkling wines.
2) Tank Method
The Tank Method is also known as the Charmat Method, Metodo Martinotti or Cuve Closé. This is an extremely popular and relatively inexpensive way to produce sparkling wines.
Prosecco and Spumante d'Asti are almost exclusively produced in this method, as is Lambusco, one of the rarer red sparkling wine. It involves putting still wine into a large steel tank and adding sugar and yeast to restart a second fermentation under pressure.
Winemakers can control levels of sweetness and the size and longevity of the bubbles by increasing sugar levels to begin with, and leaving the fermentation in sealed tanks longer to reduce sweetness and increase effervescence.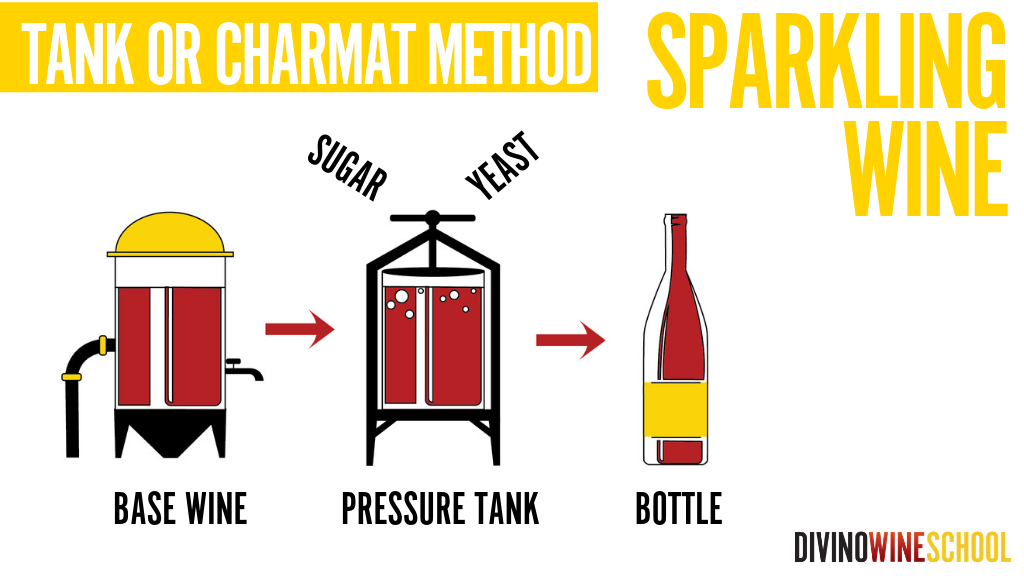 3) Champagne Method
Méthode Classique, Metodo Classico, or the Champenoise Method eponymously named for the infamous Champagne. An adorable, if inaccurate legend attributes the discovery of the process to a Benedictine Monk named Dom Pérignon, who, alongside Dom Thierry Ruinart, worked to improve the quality and storage of the monastery's wine cellar.
While he may not have invented the process, he did find ways to make it easier and produce a finer finished product. He studied the impact of grape health and ripeness prior to being crushed and fermented, as well as the use of different grape varieties (though he favored Pinot Noir), and when to blend them. Dom Pérignon may not have invented Champagne, but his work ultimately influenced the style of Champagne for years to come.
In addition to Champagne, Cava, Franciacorta, and Crémant, some German and Austrian Sekt wines, and less famous sparkling wines from all over the world are made in this method.
In the modern classic method, still wine is bottled with a combination of yeast and sugar (for it to feed on), called tirage. The wine is bottled in crown caps, racked, turned, and aged. At the end of the process (a minimum of 30 months) the dead yeast (lees) are removed in a process called dégorgement.
One common way to do this is keep the bottled upside down and dip the neck into liquid nitrogen. When the crown is removed, the frozen bit flies out carrying with it the sediment. Afterward, the bottles are refilled with a blend of wine or wine and sugar called liqueur d'expédition, in order to reach the desired sweetness levels. They are then corked and caged, to keep those corks from blowing off from the pressure.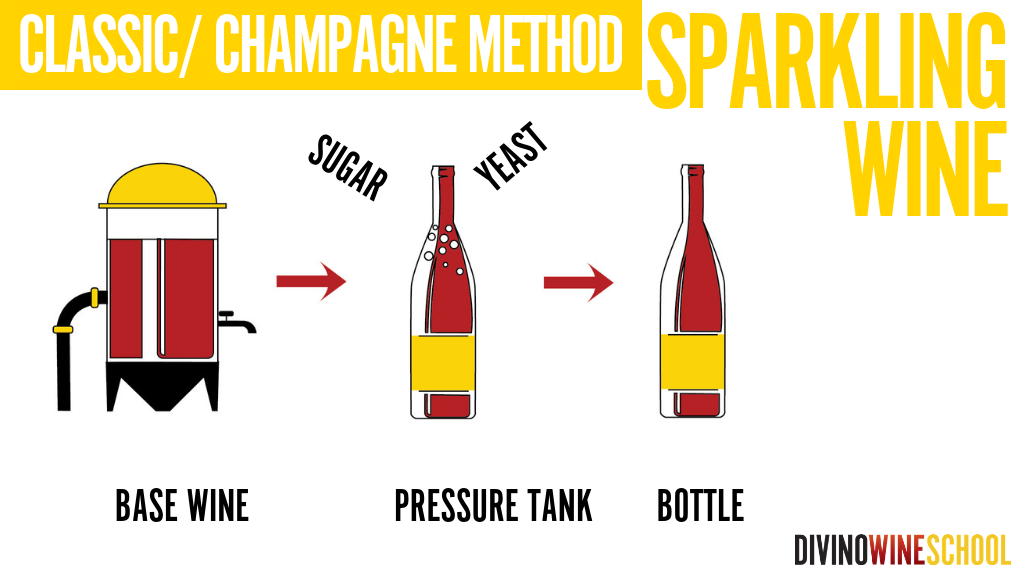 4) Ancestral Method

Also known as the pétillant-naturel, or pét-nat for short, and artisanale.
The ancestral method is important to note as it predates the Champagne method and is being actively implemented lately with the trend for natural wines, that is to say, wines with minimal intervention by the winemaker. You might also see them labeled as "naturally sparkling wines."
In the ancestral method the still wines undergo a secondary fermentation in the bottle, or more frequently it completes its first fermentation, but in a tightly sealed bottle. Just like Champagne, Cava, and Crémant or other wines made in the Champagne method, pressure builds and bubbles form. The difference is in the finishing and final stages.
In the classic method, dosage is added to the bottles to restart fermentation, and in the end, the wine is fined and the yeasts are removed during dégorgement process. Lastly, if needed, liqueur d'expédition (dosage) a mixture of wine and sugar is added to achieve the desired level of sweetness.
Ancestral method sparkling wines are often low in alcohol, as there is no way to determine alcohol levels if the wine is still fermenting when you bottle it, It's often highly aromatic, and not necessarily very fizzy.
Like all wines in the "natural" category, they can be immensely satisfying and interesting, but there is very little consistency in their production, as quality is hard to control with so little intervention. These wines are best enjoyed onsite at a winery or consumed as soon as possible after purchasing them.
Sparkling and Champagne Sweetness Scale
For Champagne and sparkling wines coming from Europe, there is a standard sweetness scale to label the wines based on a measurement of residual sugar per liter. Residual sugar refers to the quantity of sugar remaining in the wine after alcoholic fermentation.
EXTRA BRUT (0-6 grams/liter) also known as Brut Nature and Brut Sauvage. In this case the yeast has devoured nearly all of the sugar, leaving the wine bone dry.
BRUT (0-12 grams/liter ) or Extra Brut is the most commonly found label on Champagne and sparkling wines. It means the wine is dry to mostly dry. It's balanced, but not bracingly dry.
EXTRA SEC (12-20 grams/liter) or Extra Dry means the wine is dry slightly to off-dry. Prosecco is a great example.
SEC (17-35 grams/liter) or Dry is a little confusing. It actually means that the wine is Medium dry to medium-sweet.
DEMI-SEC (35-50 grams/liter) Is definitely sweet, but might will still have some crispness and balance to it.
DOUX (50+ Grams/liter) is an extremely sweet wine.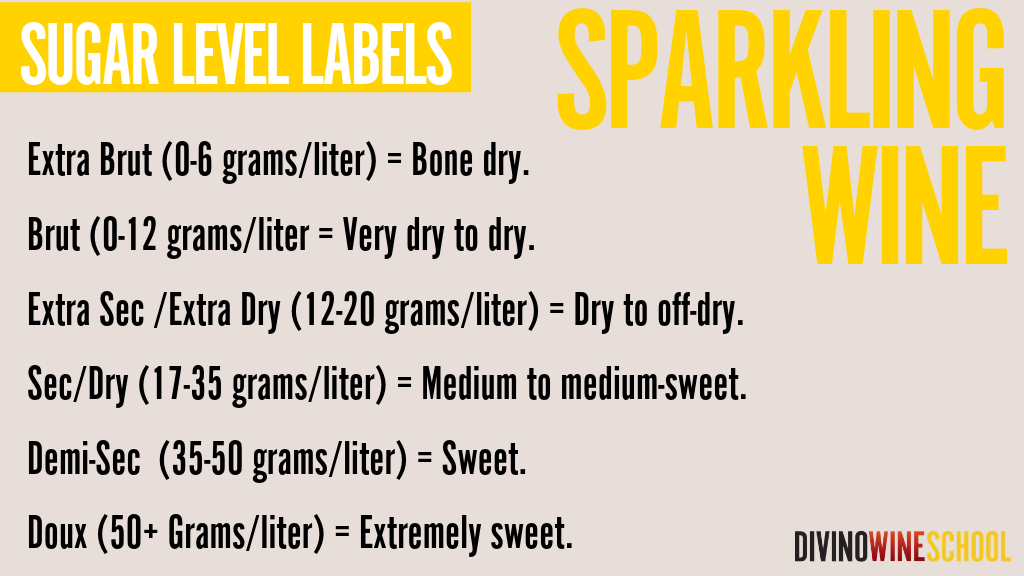 So What's the Difference Between Champagne and Other Sparkling Wines?
In addition to the technique for producing it, Champagne may only be produced and labeled as such, if it is made within the designated growing and production are for the appellation of Champagne in France.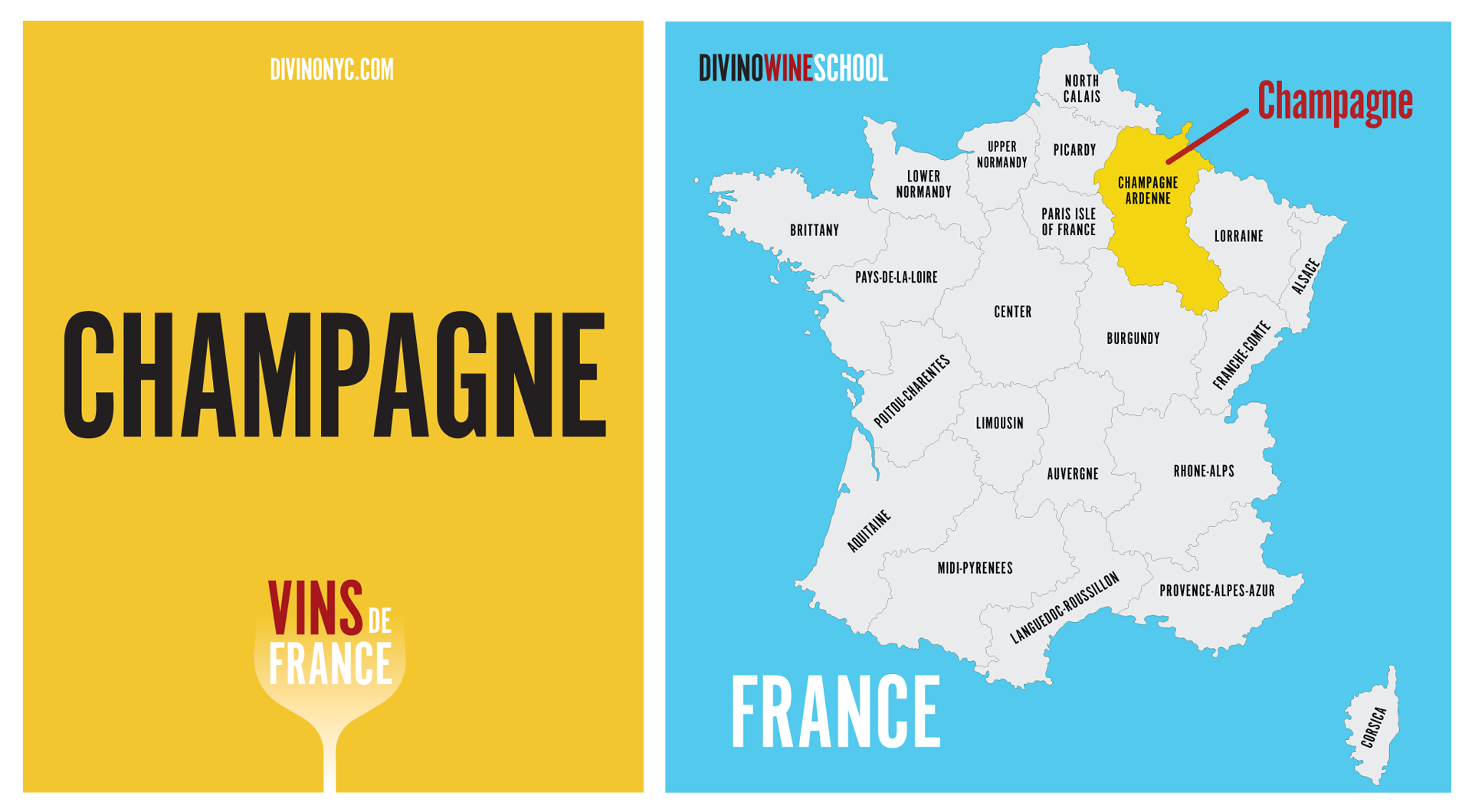 Sparkling Wines Worldwide
CAVA
Sparkling wine made in the above-mentioned techniques are produced throughout the world including new and emerging wine regions. Countries, states, and provinces are developing a sparkling identity for themselves based on the grape varieties that flourish and the soil type in the area. Even Brazilian winery Cave Geisse has found an exceptional terroir for the production of high-quality Champagne-style wines. Check out this creative wine review on their Brut Nature. It was so surprisingly delicious a song was born!
Cava is a Spanish sparkling wine made in the classic method. The appellation encompasses Penedés in Catalonia, along with a select few growing areas in Aragon, Basque Country, Castile and León, Extremadura, La Rioja, and Navarre and Valencia.
It is made primarily from the grapes Macabeu, Parellada and Xarel·lo. Cava Rosado is made exclusively in the saignée method from red grapes Garnacha, Monastrell. Pinot noir, and Trepat.
For lovers of dry, quintessential Champagne, Cava is a wonderful option that comes at a considerably lower price.
CHAMPAGNE

Champagne is the reigning king of sparkling wines made in the classic (champenoise) method. For better or worse, just like Kleenex and Scottex, has become a blanket descriptor for similar products the world over. Most importantly, Champagne can only be produced and labeled accordingly if it is grown and produced in the designated Champagne region, located in northeast France.
The principle grapes for Champagne are Pinot Noir, Pinot Meunier, and Chardonnay. Small amounts of Pinot Blanc, Pinot Gris, Arbane, and Petit Meslier are also allowed, except in the case of Blanc de Blancs, which must be exclusively Chardonnay. Classifications you are most likely to encounter on the label includes the following:
Cuvée de Prestige. Considered the top of the line production from the finest selection of grapes. Examples include Louis Roederer's Cristal, Laurent-Perrier Grand Siècle, and Moët & Chandon's Dom Pérignon to give you an idea.
Blanc de Noirs as the name suggests, is a white wine made from black (red) grapes, most often Pinot Noir and Pinot Munier
Rosé Champagne are pale pink in color and made either by blending a bit of Pinot Noir with the base white wine, or in the saignée method, which involves crushing red grapes but leaving them in contact with the skins for a very short time.
Appellation standards require a minimum of aging on the lees in the bottle for 30 months to develop the notable Champagne qualities. In exceptionally good years you might find the word, millésime, along with a year, which is an indication of vintage.
CRÉMANT

Crémant wines are a classification of French sparkling wines that are made in the Champagne method but often have a bar less pressure than Champagne. The word translates to "creamy" and refers to the slightly softer palate. The most common ones at your local wine shop are Crémant d'Alsace, Crémant de Bordeaux, Crémant de Bourgogne, Crémant de Die, Crémant du Jura, Crémant de Limoux and Crémant de Loire.
While every regions dictates quality standards for farming and production, the grapes allowed vary from place to place, which makes these wine extraordinary fun to taste and compare. Creémant, like Cava are a wonderful option if you like the dry, nutty qualities of wine made in the Champenoise method, but are trying to stay on a budget.
FRANCIACORTA
Franciacorta is an appellation sometimes referred to as the Champagne of Italy, as the area rose to prominence and gave its name to the locally produced wines made in the classic, Champagne method.
Franciacorta is a relatively modern DOCG, established first in 1967 as a DOC and later in 1995 as a DOCG, and designated to the growing and production area surrounding the town of Brescia, outside of Milan, in Lombardia, northwest Italy.
Franciacorta appellation status dictates the use of Champagne grapes Chardonnay, Pinot Bianco, and Pinot Nero. The base wine is re-fermented in the bottle and aged for a minimum of 18 month on the lees. Vintage or Millesimato Franciacorta must remain on the lees for at least 30 months, and another 7 following dégorgement. Styles and flavor profiles of Franciacorta vary from lighter and crisp, to deeper and nuttier depending age of the wines, the grapes used, and the winemaker's style.
Franciacorta Satén is a separate label that designates 100% Chardonnay and only 4.5 atmospheres of pressure, as opposed to the classic 6. This means a slightly less aggressive fizz and more delicate flavor profile.
PROSECCO
Prosecco is the quintessential aperitivo wine, beloved for its quaffable style and hint of residual sugar that makes it a perfect match for salty bar snacks and appetizers like peanuts, potato chips, and canapés. Made from 85% Glera grapes and almost exclusively in the Charmat method, it has distinctive notes of green apple, pears and lemon, and a medium effervescence. The remaining 15% allows a number of other grapes including Verdiso, Bianchetta Trevigiana, Perera, Glera Lunga, Chardonnay, Pinot Bianco, Pinot Grigio, and Pinot Nero.
Prosecco is classified as either a DOC or a DOCG. Prosecco DOC must be grown and produced within the delineated areas comprising nine provinces in Veneto and Friuli-Venezia Giuilia. The DOCG designates superior quality standards and includes:
Prosecco Conegliano Valdobbiadene Superiore
Asolo Prosecco Superiore
Superiore di Cartizze
Superiore quality standards refer to both growing and production, for example, hand-harvesting, as the areas are steep and terraced, hence the higher quality as drainage in this northern, rainy region can be tricky for grape growing. These Proseccos are also more likely fall into drier categories of the European sugar scale for sparkling wine, like Brut and Extra Brut, and occasionally Brut Nature.
That means the next time someone tries to tell you that Prosecco is sweet, you can hit them back with some facts and crack open a bottle of Prosecco Conegliano Valdobbiadene Superiore Extra Brut for emphasis!
Prosecco Col Fondo (lit. with the bottom, a reference to the lees sediment that rest at the bottom of the bottle), more frequently labeled as Rifermentato in Bottiglia, means that the wine has undergone a second fermentation in the bottle, and has not been filtered or fined, like Champagne. It usually comes in a crown cap, has a cloudy appearance and a sour almost cider-like quality.
SEKT
Sekt indicates a sparkling wine from Germany (Austria uses the same word). Traditional (Champagne) method wines have been made in Germany for nearly as long as they have in France, and it's no surprise. Soil and climate provide optimal growing conditions for high-acid and mineral-rich wines, which yield high-quality sparklers. Grapes used in Sekt include Pinot Blanc (Weissburgunder), Pinot Noir (Spätburgunder), Pinot Gris (Grauburgunder), Chardonnay, Pinot Munier, Traminer, Muskateller and Riesling.
In 1919 the Treaty of Versailles forbade Germany from using the term Champagne or Champagner, and thus SEKT became the standard. Much like Champagne and Franciacorta, there are production standards that appear on the label. Much of the base wine used to make basic Sekt is imported from abroad. The following labels can tell you more about Germany's homegrown sparkling wine production.
If the wine is labeled Deutscher Sekt the grapes are all of German provenance and can be made in the tank or traditional method.
Deutscher Sekt b.A.refers to 85% estate-grown and produced wines one of Germany's specific delineated wine regions.
Winzersekt must be made with 100% estate-grown German wines and include the grape varieties and the vintage.
Rieslingsekt as the name implies is made with Riesling and particularly fruity and full of aroma.
Do They Make Red Sparkling Wines?
Indeed they do! While you might not think of a deep ruby red, ice-cold fizzy red when someone mentions sparkling wine, this category is hardly limited to white and rosé wines. You can find sparkling reds in most wine producing regions of the world. They're often sweeter than their white and rosé siblings, and usually made in the Charmat method, although there are exceptions. Italy is by far the most prodigious producer and appreciator of sparkling red wines, from crisp and dry to luscious and berry-sweet desert sparklers.
Four Italian Sparkling Red Wines to Try Now
Lambrusco (Various)
Lambrusco is both a grape variety as well as DOC wine produced in the region of Emilia-Romagna. The wine, depending on its sub-zone and appellation generally includes a blend of Lambrusco Salomino, Lambrusco di Sorbara, Lambrusco Grasparossa, and Ancellotta.
Lambrusco ranges from sweet and fruity to quite dry. It's made in the Charmat method so the fizz is not particularly aggressive, though it can get very foamy. On the nose Lambrusco can be quite musky, animalic and wild, with notes of violet, brambly blackberries, ripe strawberries and even a balsamic pine needle note. It's served chilled and has a pleasant balance of acidity and tannin that makes it an idea wine pairing for heaping plates of cured meats, fatty salami, and hard, aged cheeses like Parmigiano Reggiano, all specialties of the region.
Bonarda dell'Oltrepò Pavese DOC Frizzante
This wine comes from just up the hill from Emilia-Romagna, in the region of Lombardia, specifically Oltrepò Pavese. The area is so-named as it is just on the other side of the Pò River (oltre = beyond), and has become well-known as of late for the production of a sparkling rosé called Cruasé DOCG, which is made in the Champagne method from Pinot Nero (Pinot Noir). Bonarda Frizzante, on the other hand is a very local tradition, made in the Charmat method from Croatina grapes. It comes in dry and off-dry versions, has a deep ruby red color, a vinous (grape-) nose and sometimes a floral, violet note, not unlike Lambrusco.
Browse Bonarda Frizzante online.
Gragnano DOC
Gragnano DOC is produced in the southern Italian region of Campania, in the area surrounding Mount Vesuvius. It's made from local grapes Aglianico and Piedirosso and has an intense red-purple color, and a peppery fruit nose and palate. It's also made in the Charmat method and generally quite dry. The subtle tannic structure and peppery tingle make a glorious companion to pizza, which is no coincidence. Campania is the pizza heartland. To true connoisseurs of Italian pizza, Naples and the surrounding area of Campania are the ultimate destination for pizza topped with creamy local fresh mozzarella. Gragnano helps cleanse palate, in the process exalting its own fruit flavors and allowing the fragrant mozzarella and naturally leavened pizza to burst into flavorful bloom.
Brachetto d'Acqui DOCG
Brachetto d'Acqui is made from 100% Brachetto grapes selectively harvested at peak ripeness in a strictly delineated growing area in Piedmont, within the province of Alessandria, close to Asti. The wine is vinified to be very sweet and bright. It's like drinking liquid strawberries with a fantastic floral nose with a bit of that wild, rustic muskiness of Lambrusco. It's relatively smooth on the palate thanks to all the sugar which works delightfully with dark chocolate and the local hazelnut and chocolate confections including gianduia, a Nutella-like spread. Its slight acidity and delicate effervescence are also ideal with hearty and aromatic cheeses.
HOW TO PAIR SPARKLING WINE WITH FOOD
We've got that covered! Check out our guide to sparkling wine and food pairing!
The world of sparkling wines is vast and colorful. Use this guide as a jumping off point to get your feet wet, and your palate curious! Cheers!