Rock your office party, stuff the best stockings, or just make your wine lover friends and family smile with these fun, useful, affordable wine-themed gifts.
*As an Amazon Associate DiVino may earn from qualifying purchases.
Wine Aerator
As an office gift or stocking stuffer for the wine lovers in your life, the wine aerator pourer is handy and cheap! Stock up on some of these for yourself and gift them at will. There isn't always a decanter at hand, but these gadgets fit most bottles and get the job done.
Wine Chiller Rod
I love this thing. The metal rod and pourer attachment stays in the freezer until it's ready to use.  Sometimes there isn't enough time to properly chill the wine. Red and white both have their ideal serving temperatures, and this tool will get it there and keep it there. At the very least it will buy you enough time to serve a round while chilling the next bottles.
Shine On Candles for a Cause
'Shine On' Candles in Support of Community Word Project
Learn to pick up on common notes of barrel-aged wines with these candles! A portion of every sale will go to promote arts education equity in underserved communities.
Barricato White:
'Barricato White' is more specific to white wines, and includes: citron, vanilla, cinnamon sticks, vanilla, clove, and tonka bean.
Barricato Red:
'Barricato Red' is more specific to red wines, and includes brown sugar, cinnamon sticks, vanilla, praline, and sweet cedar. 
A long-time supporter of Community Word Project, Annie is a proud product of public schools and a vibrant arts education, and believes in the importance of giving back. A small portion of candle sale will benefit the continuing efforts of CWP to train teaching artists, place them in public schools in underserved communities, and produce dynamic and inclusive collaborative arts events for students and educators. 
Double Hinged Sommelier's Choice Wine Key
You can go as simple or as elaborate as you like, but I still love the classic double-hinged corkscrew. It comes in a million colors and even wood paneling, like a 1970's station wagon. Your hipster-maker friend will love it.
Stemless Wine Glass Set
Stemless glassware is a casual way to enjoy wine every day. Save the stemware for fine wines and wines that need to stay cold. Your little hand can generate a lot of heat, so when you serve white wines in stemless glasses, remember to put the glass down every once in a while to keep the wine at the ideal serving temperature.
Recyclable and Reusable Plastic Wine Glasses
For the environmentally conscious friends and family who prefer not to waste water on dishwashing but cringe at single-use or short-term use plastics, try these recyclable plastic glasses. You can use them up and throw them away as needed all year round and they look pretty too!
Wine Stoppers
Believe it or not, sometimes your friends won't finish an entire bottle. These make charming collectables and come in about a million styles. Here are a few of my favorites.
Fun and Functional Bottle Stoppers
Reusable, silicone and dishwasher safe. Cute, if corny, they get the job done.
Beanie-Shaped Silicone Bottle Stoppers
These ridiculous and adorable wine bottle stoppers fit any bottle, are dishwasher safe and probably look cuter in a beanie than most of us do.
Little Birds
These little silicone bird-shaped stoppers look like they belong in museum design store, and yet they're under $10! Silicone, durable, dishwasher safe, and stylish.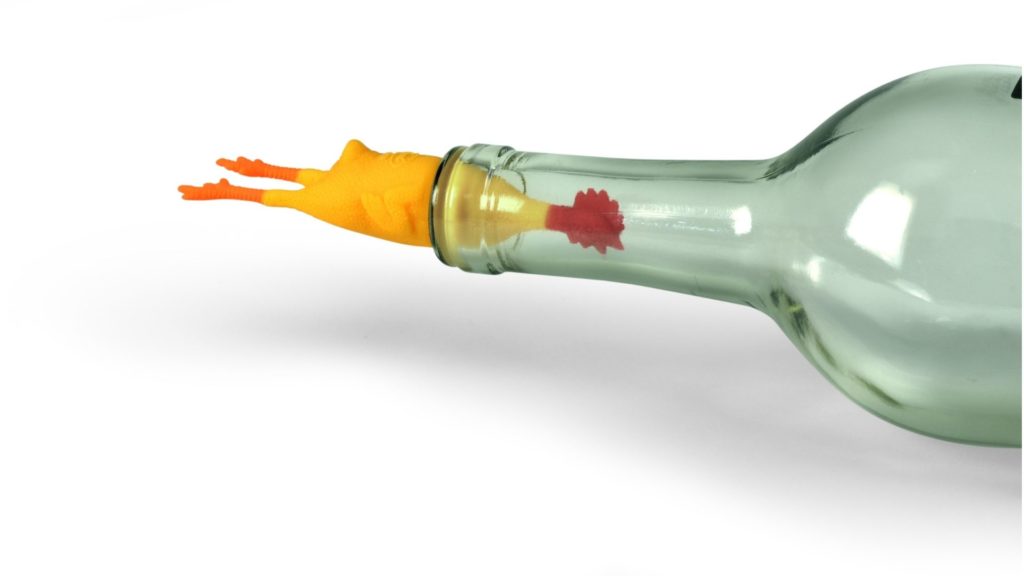 Coq Au Vin Wine Stopper
In keeping with the bird theme, this ridiculous, yet effective rubber wine stopper from Fred and Friends is clever and cute. It's impossible to keep a straight face while using it, and who couldn't use a laugh this year?
Pineapple Express Wine Stoppers
Zinc-Alloy OBALY Pineapple Wine Stoppers add a bit of glitz and humor to your unfinished bottles.
Wine Tasting Notebook
This pocketsize wine passport is only 3.5 by 5.5 inches, so no excuses! It's a compact and has enough space to jot down your wine impressions along with key information about the grape variety, winery, region, and vintage. It also includes a handy wine glossary with tasting note terms and a wine checklist. For the most studious of your friends, check out our books for wine lovers too!
WINE LIP TINT
Long-lasting lip tints in tiny wine bottle-shaped packaging with wine-inspired names like Rose Pink Blush and Shiraz Red. There's a shade for every color palette. Brush them on and let it dry before applying moisturizing gloss, and you can sip all night and keep your lip color intact.
FYI these are DiVino-tested and approved and on DiVino founder and Sommelier, Annie's lips in many of her wine videos.