DiVino may earn commissions from qualifying purchases.
A World of Wine on One Island
The island of Sicily has a rich and colorful history with a distinctive cuisine reflective of its roots and a whole world of wines to match! There is also an incredibly diverse terrain for wine growing that includes swooping hillside vineyards, gentle slopes that stretch to the shore, and steep mountainside vineyards, including atop Mount Etna, a still-active volcano.
Indigenous Sicilian White Grapes to Know
The diversity of terrain and long history of wine growing all throughout the island has led to the development of numerous distinctive local grape varieties, both red and white. When browsing store shelves and perusing the wine list, these are the white wines you'll most likely encounter.
Read more about Sicilian red wines.
Carricante
Carricante is a late ripening grape variety that thrives at elevations as high as 3,500 feet above sea level, most notably on the slopes of the volcano, Mount Etna. It's an ancient and rare variety known for stunning acidity and a mouthwatering mineral finish. It ages well and shares some traits with Chardonnay from Chablis (Burgundy), including the light green apple and citrus notes and steely minerality. Try it as part of an Etna Bianco blend or on its own.
Find it online: Tornatore Pietrarizzo Etna Bianco 2019
Catarratto
Catarratto flourishes in the hot, dry climate and produces medium-bodied wines with a range of aromas, including dried Mediterranean herbs like sage, thyme, and tarragon, plus citrus, white peach, and even some tropical fruit. It also has a refreshing bitter finish. It's frequently produced as reliable every-day table wine or blended, ie Etna Bianco, but can be exceptional on its own with the right care and attention.
Zibibbo
Also known as Moscato d'Alessandria, Zibibbo is notable for Sicily's famous Passito di Pantelleria, dessert wine, made from semi-dried grapes. The Moscato (Muscat) wine family is known for intense fruit and floral notes (rose petal), and especially dried apricot. The piquant, sweet notes of Zibibbo remain, even in dry wines. Dry Moscato is quite the tasting experience. Ultra aromatic, but with an unexpected clean, dry palate and mineral-rich finish.
Find it online: Donnafugata Lighea Dry Muscat 2020
Grillo
Grillo grows predominately on the western side of the island. It does well in the heat and accumulates a lot of sugar. This means big aromas and the potential for high alcohol wines. In fact, it's the principal grape in Marsala, Sicily's most famous fortified wine. It's most often blended with other indigenous grapes, for example in Alcamo DOC, but on its own packs a powerful aromatic punch. Green citrus, apples, tropical fruit, and sweet Mediterranean herbal notes.
Find it online: Donnafugata SurSur Grillo 2020
Insolia (Inzolia)
Inzolia is one of the island's most ancient varieties and most likely arrived with the Greeks. It can also be found in Tuscany, on the isle of Elba, in Sardinia and parts of central Italy where it also goes by the name Ansonica. The Sicilian version has a vast array of aromas including citrus, white flowers, peach, apricot, and acacia honey. The finish has distinctive bitter almond note. If you can find it on its own, try it! If not, Inzolia is frequently blended too.
Find it online: Feudo Zirtari Inzolia Chardonnay 2019 (Inzolia and Chardonnay blend)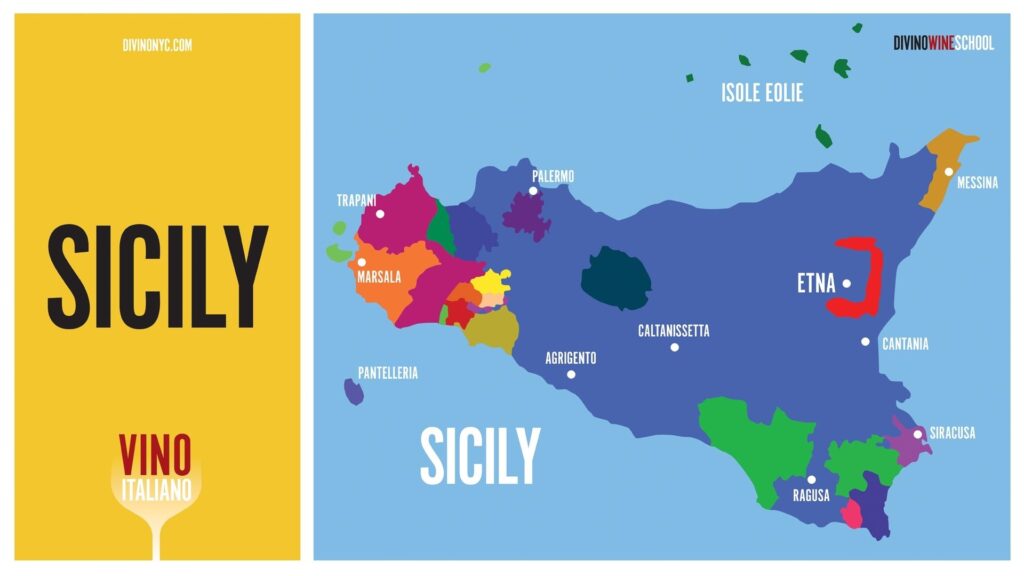 Native and International Grape Varieties
While Sicily is home to a number of native grape varieties, international varieties like Chardonnay and Viognier also thrive in the hot sunny climate and complex, mineral-rich soils. When you taste Sicilian white wines, expect bold, ripe fruit aromas and a distinctive salinity on the nose and on the finish, a hallmark of island wines. The seaside and the sea breeze are always nearby, and you can feel it! Even Pinot Grigio (Pinot Gris) a notorious cool-weather wine, picks up some Sicilian style.
Find it online: Feudo di Santa Tresa Purato Pinot Grigio 2020
Sicilian White Wine Blends
Perhaps the greatest expression of a place as culturally and flavorfully diverse as Sicily is a blend. The Sicilian climate and terrain produce intense wines, with rich and heady aromas and powerful minerality. Winemakers utilize grape varieties with different flavor and textural profiles for balance.
Etna Bianco, the wines produced from grapes grown on the slopes of Mount Etna are almost always a blend. Peruse them online here.
Sicilian White Wine and Food
While different varieties certainly have unique qualities, Sicilian white wines share some common threads: heady, complex fruity and herbaceous aromas, balanced acidity, and mouthwatering minerality. This makes them well suited for pairing with a number of deep dried street foods like panelle (chickpea fritters), crocchette (croquettes), and arancine (rice balls). Bring out the wines' beautiful floral and fruity aromas with creamy cheeses, seafood dishes, and vegetables. Try our recipe for Sicilian-style couscous!
Video: Learn how to pair food and wine