DiVino may earn commission from select online purchase links.
Watch on YouTube.
Old Vines: Lost and Found
In the last twenty years, the wines of Etna in the northeastern part of Sicily have gone from virtually unknown to celebrated—and even a little trendy.
In a part of the world that has been making wine for about as long as wine has existed, twenty years ago there were barely 20 commercial wineries in the area, that is, properties large enough to produce wines at a scale they could export and market around the world. This is partly due to destruction and poverty following World War II and a mass exodus to Northern Italy and other countries, including the USA.
Etna wines are thus a wonderful opportunity to taste the complexity of old vines.
There are now several hundred, which is great news for growers in Sicily, but it's also great news for us! Dedicated winemakers have been revitalizing old vines and planting new ones of indigenous, local grapes, principally, Nerello Mascalese, Nerello Cappuccio, Carricante, and Catarratto, and making world class wines that often quite affordable. Due to the sandy nature of the soil, which many of these vineyards predate the Phylloxera infestation, which destroyed rootstock throughout much of continental Europe. The particular mineral composition provided a natural defense against the aphids that feed mercilessly on grapevine leaves and roots. Etna wines are thus a wonderful opportunity to taste the complexity of old vines.
About Etna DOC
Geography and Climate
Etna wines are produced on the slopes of eponymous Mount Etna, a still active volcano in the northeastern corner of Sicily. The soil is naturally mineral rich and sandy, following centuries of eruptions and an accumulation of geological elements.
The vineyards are planted at elevations reaching as high as 4,000 meters above level along the North, East, and South of the volcano, in a backwards C-shaped formation.
Unlike the rest of Sicily, which enjoys a mild Mediterranean climate, the extreme temperature fluctuatios, wind and frequent rainfall classify much of Etna as a cool-climate wine-making region, especially northern slopes, where Etna Bianco, and Etna Bianco Superiore are produced exclusively. Even within Etna, microclimates and distinctive terroir abound.
Etna Rosso
The reds came first, with Etna Rosso making headlines by 2016. Producers like Tenuta Delle Terre Nere, Benanti, Tornatori and Passopisciaro were producing wines made from a blend of Nerello Mascalese and Nerello Cappuccio with exceptionally bright red fruit notes that mellowed out after a few years to display a supple, velvety and complex character, akin to Pinot Noir and Nebbiolo.
Find Etna Rosso online.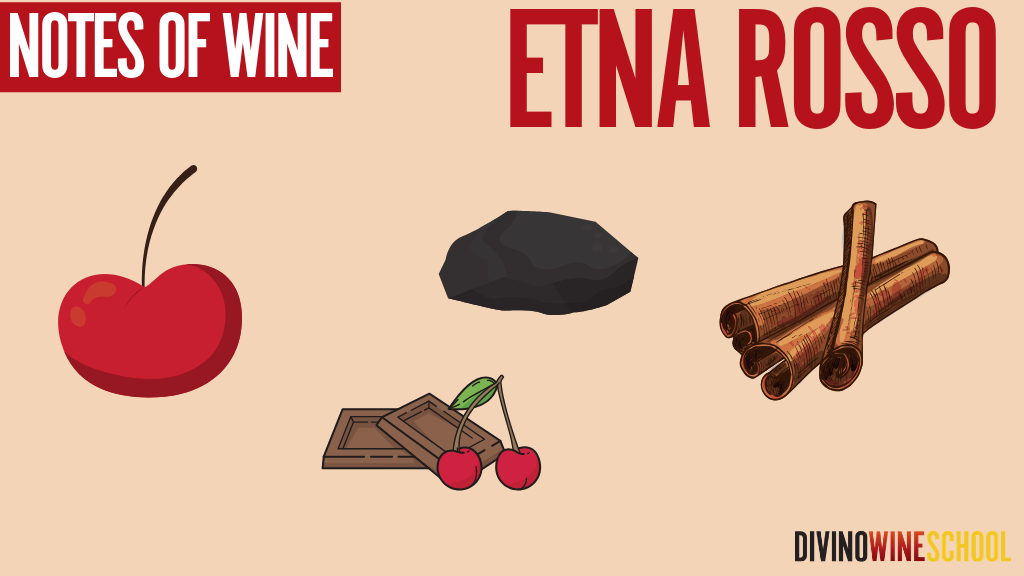 Etna Bianco & Bianco Superiore
Etna Bianco, like one from Barone di Villagrande that we taste in this video, has drawn less attention, but is definitely on the rise and something to look for on menus and wine lists these days. Made from mostly Carricante, with smaller quantities of Catarratto, Minella Bianco and Trebbiano, these wines start off steely, salty and dry with notes of crisp citrus, yellow delicious apples, and wild flowers. Over time, they also relax and amplify, displaying notes of honey, ripe stone fruit and a distinctive smoky, volcanic minerality. If Etna Rossa draws comparisons to Pinot Noir, Etna Bianco shares the longevity and elegance of Riesling.
Etna Bianco Superiore is a special classification reserved for wines grown and produced in the area surrounding the town of Milo. Here the wines are required to made from a minimum of 80% Carricante.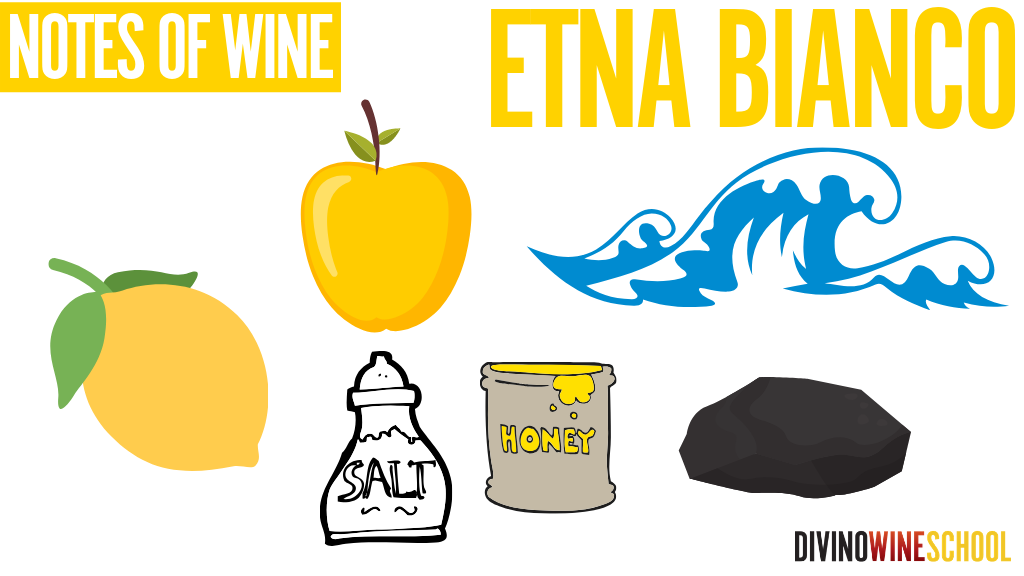 Barone di Villagrande
Barone di Villagrande is one of the oldest producers in Etna, with roots on the property since the 18th century. The humble Nicolosi family of farmers was able to cultivate the land and develop the winery starting when Patriarch Don Carmelo Nicolosi was named Baron di Villagrande, by Neopolitan King, Emperor Charles VI of Augsburg.
For generations, the same family has focused their attention on the indigenous grapes of area and strive to produce wines of exceptional quality a genuine reflection of history and terroir.
For generations, the same family has focused their attention of the indigenous grapes of area and strive to produce wines of exceptional quality a genuine reflection of history and terroir. In 1968, with the establishment of the Etna DOC, University professor and enologist, Carlo Nicolosi Asmundo helped draft the growing and quality standards.
Today the winery is thriving. They produce Etna Rosso, Etna Bianco, Etna Rosato (Rosé), as well both a dry and a dessert version of aromatic Malvasia, on tiny property on Isola di Salina, of Eolian Islands. They have also created a delightful 4-room wine resort and restaurant on the premises overlooking the terraced vineyards, where guests enjoy guided wine tastings and traditional cuisine made from locally raised and harvested produce. A delight for the senses and a wonderful way to immerse yourself in the flavors, colors, and elegance of Etna.
Click here for more information and booking.
---
Barone Di Villagrande Etna Bianco Superiore DOC 2017
Pair Etna Bianco Wine With Food
Etna Bianco is a versatile dry, white wine that pairs beautifully alongside seafood, simple poultry, and vegetarian dishes. The mineral finish, sunny warm fruit aromas and balanced acidity balance particularly well with fatty fish like salmon as well as crustaceans. The aromatic profile includes citrus as well as myriad Mediterranean herbs, so don't be afraid to pair with bold, flavorful dishes.
Download the recipe for Sicilian-style couscous.
---