What Makes Sicilian Wine Different
The island of Sicily, as well as the surrounding islands and archipelagos have a rich and colorful history with a distinctive cuisine reflective of their roots, and a whole world of wines to match!
There is also an incredibly diverse terrain for wine growing that includes swooping hillside vineyards, gentle slopes that stretch all the way to the shore, and steep mountainside vineyards, including atop Mount Etna, a still-active volcano. Several smaller islands are made of complex volcanic soil, where grapes thrive in wind-whipped and sun-baked conditions.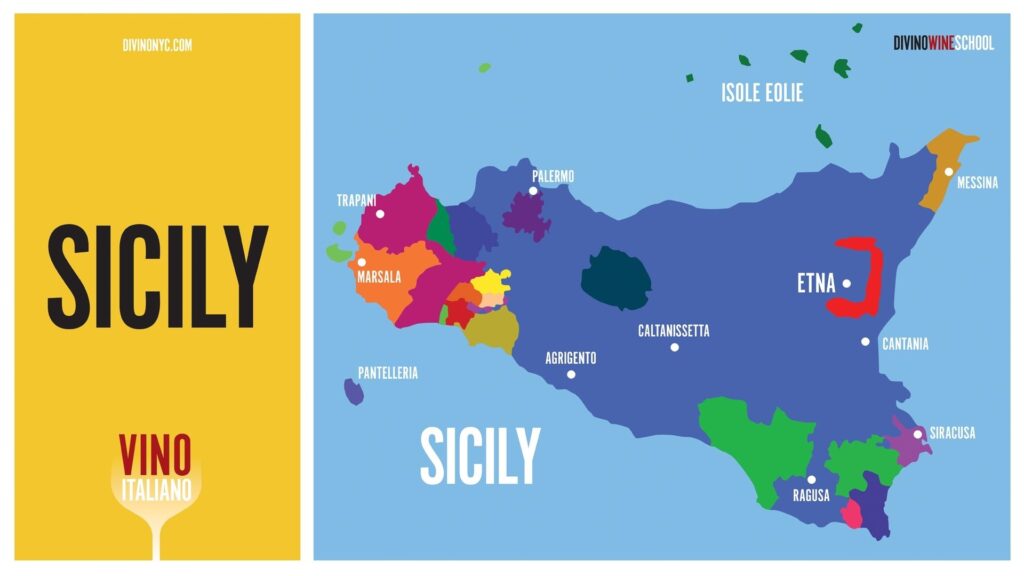 Indigenous Sicilian Red Grapes Varieties to Know
While Sicily also produces incredible versions of international grape varieties, especially Syrah (Shiraz), the combination of diverse terrain, hot sunny weather and constant sea breezes, has led to the cultivation of distinctive local grape varieties, both red and white. When browsing store shelves and perusing the wine list, these are the red grape varieties and wines you'll most likely encounter.
Read more about Sicilian white wines.
Nero d'Avola
By far Sicily's signature red grape variety, Nero d'Avola can and does grow just about everywhere. It is, however, most prodigious in the southeastern regions stretching from Agrigento to Siracusa. It thrives in the alberello vine training system, wherein plants grow tall and create canopies, almost like a forest of trees. They're often high enough to walk under, and the system promotes airflow and prevents mold. In the area surrounding the town of Ragusa, Nero d'Avola is blended with Frappato for the DOCG wine, Cerasuolo di Vittoria.
Nero d'Avola takes its name from Avola, a town in the Siracusa province and nero, Italian for black. In oenology, red grape varieties are referred to as black, ie, Pinot Noir and Granache Noir. Fun fact: Nero D'Avola was once referred to as Calabrese, but that's purely coincidental and has nothing to do with the nearby Italian region of Calabria. Instead, it's a derivative of old Sicilian dialect Calaravrisi, which meant "black grape of Avola."
There are a few different biotypes of Nero d'Avola, and of course the specific climate and winemaking techniques alter the aromas, flavors, and textures of the wine. The brightness and tightness make it a popular blending grape, but it's great on its own as a light easy-drinking chillable red, as well as more robust and complex versions. In general, look for dark red fruit, sturdy acidity and some tannin, which allows the wines to age gracefully and stay fresh. The further southeast you go, Nero d'Avola tends to be a bit spicier and develops with some oak aging.
Frappato
A robust variety with ancient origins, Frappato is thought to have originated in the Iberian Peninsula, but had some genetic links to Sangiovese. In fact, it shares a similar transparent ruby red color. The grape grows predominately in the areas surrounding Trapani, Ragusa, and Agrigento.
Most famously, it is blended with Nero d'Avola for Cerasuolo di Vittoria DOCG. On its own, the wine is light to medium-bodied with pretty, wild berry and floral aromas and a fresh, even palate. Frappato is delicate as a red, but also makes a charming rosé.
Perricone
Once upon a time, Perricone, also known as Pignatello, was the most widely planted grape in the areas surrounding Palermo, Trapani, and Agrigento. The vines suffered and almost disappeared during the Phylloxera epidemic. Perricone is now making a comeback as a varietal wine as well as well a blending grape. It's also an important component of the fortified wine, Marsala Rubino (ruby), which is made from red grapes.
On its own, Perricone produces a deep opaque red color, and a mid to full-bodied dry wine. The ample nose includes pepper, eucalyptus, juniper, mint, ripe plum and cherry. The finish is long. Moderate barrel aging also adds depth and smoothness. Perricone contributes color, body, smoothness and aromatic complexity to blends like Monreale DOC.
Nerello Mascallese
The Nerello family of grapes includes many sub-varieties, including Nerello Cappuccio and Nerello Mantellato. Nerello Mascalese is the most commonly utilized variety for Etna Rosso, and thrives in the area surrounding Mount Etna in the province of Catania,and the northeast of Sicily.
Like several indigenous Sicilian grape varieties, Nerello also shares some DNA with Sangiovese. This may account for its somewhat transparent color and vibrant red fruit notes, and high acidity which enables the wines to age gracefully. Nerello Mascalese has also been compared to Nebbiolo and Pinot Noir for its sensitivity to the growing area, and expansive aromas that emerge over time.
You'll most likely find Nerello Mascalese blended with Nerello Cappuccio and other Nerellos in Etna Rosso DOC wines.
Alicante
The name recalls the Spanish city known for Alicante wine, made from Garnacha, a very close cousin to Alicante, like Grenache, Cannonau, and Vernaccia Nera.
Alicante in Sicily produces a deep purple-blue skin and an equally intensely colored wine. Aromas include deep and luscious blackberry, blueberry, black currant and sweet spices. Velvety and rich on the palate it produces just enough tannin for balance.
Local and International Grape Varieties
Sicily's soil and climate diversity also produces fascinating versions of international grape varieties, most commonly Syrah. Syrah's inherant spice and smoke is amplified by the volcanic elements of Sicilian terrain.
Other famous wine varieties you might find on their own or in a blend include Cabernet Franc, Cabernet Sauvignon, and Merlot.
Sicilian Red Wines and Food Pairing
What grows together goes together. That is why so many of Sicily's red wines accompany the variety cuisine the island is for famous for, including seafood. Many of these wines are produced with a light-to-medium body and pair gorgeously with grilled tuna steak or swordfish. The volcanic minerality and trace spice notes add dimension to tomato-based sauces, like pasta alla norma.