DiVino may earn commission from select online purchase links.
As summer comes to an end and we all take our last delicious dips in the ocean, lake or pool, keep in mind that your dipping days are far from over!
Check out this recipe for olive tapenade while you're at it!
These four dip recipes are a tiny selection of one of the world's greatest inventions in cuisine: dipping sauces. They're tasty on their own or as a compliment to other foods. The question is, what wine do we pair with them for a well-rounded gourmet experience? Read on for our tips on sipping and dipping: wine and dip pairings as well as a few alternatives.
Tzatziki Dip
The yogurt and cucumber-based dip, most commonly known as Tzatziki, is popular throughout the Middle East and Southeastern Europe. It's also close cousin to Indian Raita. Also known as cacik (in Turkish), it is most commonly served as a meze (tapas-stye appetizers) or as dipping sauce for other dishes like gyros, souvlaki, and the whole family of dolmas: stuffed cabbage leaves, stuffed entire vegetables like tomatoes and peppers, and dolmades (grape leaves). It's also delicious served with fresh vegetables and sliced flatbreads like pita and bazlama.
Recipe Variations
The Greek recipe begins with yogurt (sheep or goat milk if you can find it!) and combines garlic, lemon, dill, parsley, mint, salt and olive oil. The recipe varies throughout the region and reflects seasonal produce and traditional cuisine. In some cases, carrots or cabbage may be substituted for cucumbers. A Balkan-style version uses basil and chopped nuts, and in some recipes, labneh (dense, thickened yogurt) is used in place of regular yogurt.
Best Wine with Tzatziki
Both yogurt and cucumbers are notoriously difficult to pair with wine due to their acidity. That same brightness and tanginess makes this dip so refreshing, and a great condiment to accompany savory and salty dishes. It's a wine pairing conundrum, but we're here to solve it!
Wine Pairing: A dry and aromatic white wine with a silky and sumptuous palate to balance the acidity of the dip. Local Greek variety Moschofilero is in the Moscato family and has gorgeous, lush aromas of peaches, apricots and roses. It's clean on the finish but glossier on the palate than other coastal, mineral white wines like Assyrtiko.
Alternatively, try a cocktail made from Mastika (sweet and pine-y, resiny Greek liqueur) or anise-based Raki, Ouzo, or Sambuca mixed with still or sparkling water.
Spinach Artichoke Dip
An all-American classic, spinach artichoke dip is a perennial comfort food. It can be served just about any way, from inside a bread bowl with fresh vegetables for dipping, or on top of crackers, crostini, or even tortilla chips. A favorite version of mine is skillet-scathed under the broiler and served with crusty bread or crunchy carrot sticks for bright balance.
This recipe from the New York Times is a good place to start. Variations on the theme may include removing the spinach or the artichokes altogether, the addition of chopped jalapeño peppers, or changing up the cheese. Mozzarella is creamy and neutral, whereas Parmigiano and Pecorino add a salty and tangy element.
best Wine with Spinach Artichoke Dip
The main component of this dip is creaminess. That can weigh on your palate. One way to lighten it up is to serve the dip with fresh, raw vegetables. But if you're going for the indulgent version, spread on bread or crackers, choose a wine with some spritz for balance.
Wine Pairing: Portuguese for "young wine" the Vinho Verde most commonly found on the global market is a white wine made from a variety of local grapes. The wines are light and lower in alcohol, and sometimes naturally effervescent. Aromas include watermelon and citrus notes. Vinho Verde is a perfect blend of ease and brightness. It's quaffable, fun, and fruity, and shouldn't clash with most variations of this recipe. The subtle fizz will help balance all of that creaminess too.
Queso Dip
The origins of this spicy-cheese dip are likely the Mexican dish Queso Fundido (melted or molten cheese), which is traditionally flavored or topped with chorizo or chopped vegetables. During the mid- 19th Century, Swiss-style wine-infused melted cheese fondue was also making its way across the Atlantic and gaining popularity in North America. This may or may not have been the catalyst for the beloved Tex-Mex recipe, now simply known as queso.
The dip contains more milk than queso fundido for a more liquid consistency, and may include roasted peppers, chili pepper, pico de gallo (chopped tomato, onion, and peppers), spiced ground beef picadillo or chopped chorizo. Queso is most popularly served with warm tortillas or tortilla chips, or drizzled atop a heaping plate of nachos.
Best Wine with Queso Dip
There's no way around it. Queso means cheese. It may not appear as classy as a traditional cheese and charcuterie board, but the combination of cheese and chorizo is enough to inspire a regional pairing with great Spanish red wine. ¿Por qué no?
Wine Pairing: Try a young, spicy and tannic Tempranillo-based Rioja. A more aged Rioja will also bring a spicy element to elevate the flavors in the dip, while the tannic tinge and acidity in wine will cleanse your palate with every sip.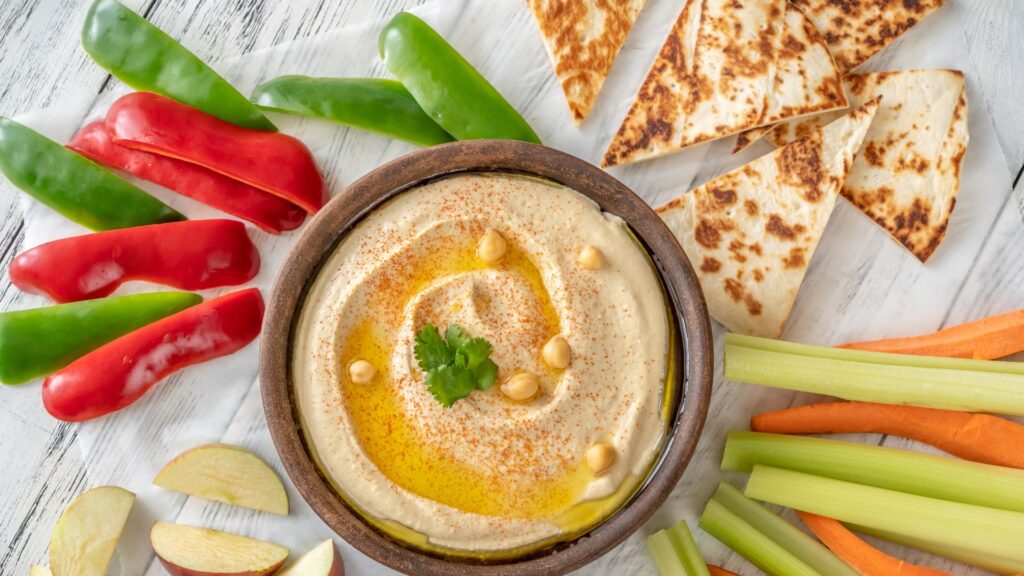 Hummus
This Middle Eastern classic spread has taken over the world and for good reason. It "spread" first to Turkey and Cyprus, as well as to North Africa, which accounts for the myriad variations and local recipes. The chickpea-based dip is earthy, tangy, creamy, and super satisfying. It's great served with fresh vegetables, flatbread, as a meze, or as a topping for falafel and kibbeh.
Hummus is named for its main ingredient–ḥummuṣ is Arabic for chickpeas, or the lengthier name: ḥummuṣ bi-ṭ-ṭaḥīna (chickpeas with tahina, roasted sesame seed paste). It usually includes garlic and lemon. Variations include topping the dip with tangy sumac, or paprika, pine nuts, fresh parsley and a hefty drizzle of olive oil.
Best Wine with Hummus
Hummus can be as creamy as you want to be. Tahina adds a buttery quality, but thanks to the roasted seeds, the essence is still earthy. The acidity and tanginess of this dip also depend on your taste. More raw garlic and lemon will make your hummus more difficult to pair harmoniously with wine, but it's hardly mission impossible.
Wine Pairing: Hummus is a perfect partner for a skin-contact white wine (aka orange wine). Wines made in this manner have a rustic, almost cidre quality that, while interesting, is rather innocuous as a flavor profile and will only serve to elevate the earthy elements of your dip. In the same vein, try a semi-sparkling, or naturally sparkling wine (ancestral method, or Italian metodo ancestrale). These wines have similar wild, earthy quality and a mild effervescence which will offset the creamy tahini for a fabulous flavor and texture experience!
Find a skin contact white wine online.