DiVino may earn commissions from qualifying purchases.
Granted, South Africa may not the first place that comes to mind when you think of impressive wines and vineyards. You might not even give South African wines a glance when you're browsing your local wine shop or ordering a bottle of wine at dinner, but the country is beginning to garner attention around the world for its high quality and reasonably priced wines.
Many of us just sip our way through our favorite "Old World" wines without ever realizing that there is a whole other world of amazing options worthy of our attention. South Africa is also home to a hybrid grape variety Pinotage, which has yielded magnificent wines that are getting rave reviews the world over. Yep, there are other wines out there beyond French, Italian, Spanish and Portuguese that you will relish if you would only try!
Wine lovers, if you're seeking out remarkable wines at unbelievable prices, give South African wines a shot. Exploring South African wines was a whole lot of fun for me and here is everything you need to know about them.
History of South African Wine
Early history of South African Wines
South Africa's winemaking history is nowhere nearly as old as Europe's, but the county is not an inexperienced newcomer either. Did you know that their wine industry started with the arrival of Dutch colonists in the mid-17th century? The Dutch settlement in the Cape was initially established as a refueling stop for sailors traveling between Europe and India to pick up.
According to historical records, Governor Jan Van Riebeck of the Dutch East India Company was tasked with planting grapes in the region. The first vines were planted in 1659 in Constantia, now in the suburbs of Cape Town in the southern tip of the country.
So, why was winemaking so important for the Dutch?
Let's thank Scurvy for South Africa's wine industry. In the olden days, people wrongly believed that wine had miraculous healing powers and even the ability to fend off diseases like scurvy. Slowly but surely, the region became a popular port of call for sailors traveling between Europe and Asia to replenish their stock of produce and wine.
South African Wine in the Late 1700s
Although the first wine production stint in 1659 was a success, the wines themselves were of mediocre quality. The Dutch weren't famous for their wine-making skills! It wasn't until the arrival of the French that the art of winemaking truly came to South Africa.
In 1685, Governor Van Der Stel made an effort to step up wine production in the Cape and introduced grape varieties like Semillon, Chenin Blanc and Palomino to the region along with the most important ingredient- French winemakers. The quality of South African wines improved, and they became known all over Europe for their quality.
After Van Der Stel's time, his vineyards were divided into three parts but largely neglected. Thankfully, Hendrik Cloete who purchased Groot Constantia revived the vineyards to its previous glory.
Decline of South African Wines in the early 1900s
By the 1900s, Constantia became a veritable wine wonderland with millions of wines planted all over the region. At one point, wine production was so disproportionately higher than the demand that barrels of wine were just being poured down rivers and lakes! Can you imagine that?
The prices of wines took a nosedive. Farmers were desperate. To save winemakers and farmers from complete ruin, an organization called KWV was formed. They imposed a minimum price on wine and assured farmers that they would buy all the excess wine that remained unsold
What ensued was a tragedy for the South African market. Since farmers had a guarantee that excess wines would be purchased no matter what, they had no incentive to sustain the quality nor compete with other wine makers.
In fact, most of the grapes harvested were simply sold to distilleries for making brandy. To make matters worse, Apartheid era sanctions kept South African wines away from the global market.
Revival of South African Wines
After Apartheid ended, South Africa's wine market opened up once again. Trendy boutique wine shops and cellars sprang up everywhere. Winemakers shifted their focus from quantity to quality. The country's wine industry came out of isolation and began to build a good international reputation. Today, exciting wines are produced all over South Africa and many of them are exported to different parts of the world.
Read more about South Africa's first Black, female winemaker, and her winery, Aslina.
Stunning Wine Producing Regions of South Africa
South Africa has a Wine Origin system similar to the French Appellation d'Origine Controlee. For a wine to be labelled as from a region, all grapes used in the wine must be from that region.
Anyone familiar about the world of wines will know about Stellenbosch and Franschhoek, but the South African wine industry is much more than just these two places.
If you're looking for a wine getaway, I've put together a list of South Africa's stunning wine regions.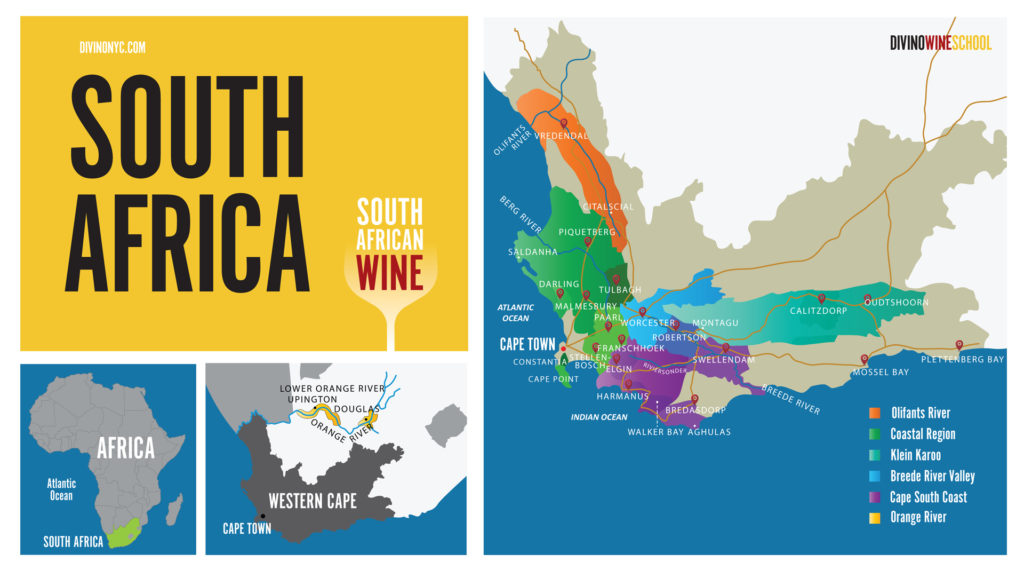 Bot River Wine Region
The Bot River wine region is a small ward near Walker Bay that covers the Bot River village and valley. The area stretches from the stunning Bot River lagoon up to the slopes of the Groenlandberg and Babylonstoren mountain ranges and borders the UNESCO-registered Kogelberg Biosphere.
Thanks to its proximity to the lagoon and Walker Bay, this region has a cool maritime microclimate with pleasant sea breezes from the bay making their way into vineyards especially during hot afternoons. This helps the wines cope with intense summer heat and gives them greater freshness and acidity.
During winter months, the temperatures are mild, and the region receives moderate rainfall that irrigates the vineyards.
The Bot River wine route produces some fabulous, premium white wines especially Chenin Blanc and Sauvignon Blanc. The climate and soil are also perfect for red wine varieties like Pinotage and Shiraz.
This lovely wine region is worth a visit and travelers will find its rustic allure rather appealing.
Coastal Wine Region
The Coastal wine region is home to Constantia where the South African wine journey started! Constantia is South Africa's oldest wine region with a fascinating backstory. This gorgeous wine paradise is just a stone's throw away from Cape Town. So, even if you're in town for business, it is a quick and easy trip from the city. Don't miss it!
Vineyards in Constantia produce first-class red and white wines that will tickle any pallet. Their Sauvignon Blanc is famous and for good reason! When you travel further inland, the weather becomes hotter and drier and the conditions are particularly favorable for Shiraz, Pinotage and Chenin Blanc.
What's more? Constantia is a rather small region and you can easily cover it within a short time frame. The coastal wine region also covers Stellenbosch and Paarl, two of South Africa's most popular wine destinations.
Travelers to this wine region are greeted by a wonderful mélange of modern, family-owned boutique wineries and large, traditional Dutch-style estate wineries. Constantia is home to historic winery, Groot Constantia, which has been in operation for more that three centuries.
Breede River Valley
The Breede river valley is a breathtaking wine region in the Western Cape of South Africa that is known for its incredible scenery. It is surrounded by mountains on three sides and produces a considerable portion of the country's wine. Grape varieties like Chardonnay, Chenin Blanc, Cabernet Sauvignon, Pinotage and Shiraz fare well here.
Soil types in the region vary from alluvial to sandy and stony. Places like Robertson have pockets of limestone giving the area's wine a chalky minerality. In winter, the region is much colder than the other parts of the Western Cape. It is semi-arid with hot and dry summers.
In the Breede Valley wine route, visitors can see both family-owned boutique wineries as well as huge co-operatives.
Cape South Coast Wine Region
Cape South Coast's stunning scenery can remind you of the rolling hills of Tuscany. The region is very close to the ocean making it perfect for cool climate grapes like Sauvignon Blanc, Pinot Noir and Chardonnay. Walker Bay and Cape Agulhas are particularly noted for their Sauvignon Blanc that is bursting with distinctive herbaceous notes, due in part to the indigenous floral kingdom of flowering shrubs, called Fynbos, that blanket the hillsides in the area surrounding the vineyards.
The perpetual cool winds from the ocean combined with mineral rich gravel create unique conditions for highly concentrated grape flavors. Cape South Coast wines are known for quality and elegance. Believe it or not, their delightful wines are frequently compared to Burgundy wines, owing much to the cooler climate. This is a huge compliment for a relatively new wine region like Cape South Coast.
Klein Karoo Wine Region
The Klein Karoo is the eastern most wine region in the country, tucked away between stunning mountain ranges that will reminiscent of ridges of Northern California. The wine route extends along a Mountain valley and vineyards dot the foothills of the delineating mountain ranges as well as along the rivers that runs through the valley. It is bordered by Langeberg mountains in the south, which temper the coastal effects of the Indian and Atlantic Oceans. To the north, the Swartberg Mountains separate it from the Great Karoo, an expanse of semi-desert climate that stretches to the west.
While there are several microclimates in Klein Karoo, generally speaking, the climate is on the drier side. It does not rain as much as other wine regions, but that's a good thing in this case. The relatively dry air combined with alluvial soil types creates the perfect environment for healthy, balanced vineyards and sustainable winemaking processes. Organic farming is pervasive in Klein Karoo.
The wines of Klein Karoo are generally grown on its hilly slopes or along riverbanks and enjoy optimal diurnal temperature fluctuations, making it one of the most versatile wine regions in South Africa, in fact the region is known for a great variety wine and styles, ranging from light, easy-drinking wines to premium wine, fortified Port-style wines, and dessert wines, including South Africa's award-winning Muscadel.
Visitors to Klein Karoo will appreciate its country charm, wide open spaces, friendly locals and delicious fruity wines. Their wines are known to be among the best in the country.
If you're looking for a wine holiday away from the maddening tourist crowds, this less-known gem is ideal for you. You will be greeted with exquisite wine experiences and unforgettably scenic routes.
Olifants River Wine Region
The Olifants River Valley in the Western Cape is an expansive wine region known for mass production of export-worthy wines, as well as wines of extraordinary quality thanks to a variety of terroirs and microclimates throughout its variegated topography.
The region stretches from Lutzville in the north to Citrusdal Valley in the south, and is a beautiful combination of river, ocean and mountain views with varied growing conditions that offer a great range of amazing wines. The terroirs with proximity to the coast have a cooler microclimate favor white wines like Sauvignon Blanc and Chenin Blanc with herbaceous notes.
As you move further inland, the climatic conditions and soil are more suited for red varieties like Shiraz, Pinotage and Cabernet Sauvignon.
The Olifants Valley has been producing wine since the 17th-century when colonists settled along the riverbanks and experienced the land's potential. The region is named for the elephants who roamed these lands in the 17th and 18th centuries.
The Oliphants River valley is around 200 kilometers from Cape Town and is a serene retreat for wine enthusiasts who love diverse landscapes and flavorful wines. The region offers great wine experiences and cellar tours that let you explore the vineyards and learn about their delectable wines.
Northern Cape Wine Region
The North Cape Wine Region is South Africa's largest and most sparsely populated province making its rather unspoiled countryside perfect for wine growers. Home to the Orange River Valley, this sprawling region covers a third of the country's total land mass and its terroirs range from arid to prairie lands resulting in several unique wines.
The Northern Cape wine route is South Africa's undiscovered gem and benefits from warm and dry climate as well as alluvial soils. The environment is well suited for producing Shiraz, Colombard, Merlot and Chenin Blanc.
There are several cellars in this region that host wine tastings along with delicious food and cheese platters. I recommend exploring this gorgeous province and enjoying some of their delicious wines.
The South African wine industry has something to offer every palate. The country's wine scene has come a really long way and their wonderful wines will truly surprise the wine drinker in you. South Africa's wine regions are also great for travel enthusiasts looking to jet away on an offbeat holiday since they are still largely unknown. Whether you're looking to travel or indulge in flavorful, fermented grapes, don't ignore what South Africa has to offer.
The Birth of a Wine: A Note on Pinotage
In 1925, Abraham Izak Perold, a professor of viticulture at the University of Stellenbosch, developed a hybrid of Pinot Noir and Cinsaut (locally known as Hermitage), hence the name.  His goal was to combine the vigorous and thriving Cinsault grape, with thin-skinned Pinot Noir, which develops beautiful aromas but can be tricky to cultivate.
As legend tells, he planted a few seedlings in his research garden and abandoned them when he left for another job position two years later. A fellow professor, Dr. Charlie Niehaus, recovered the plants and brought them back to the lab. In 1941, Historic Kanankop Winery successfully harvested and produced a wine made from Pinotage.
Throughout the mid-20th Century, the wine gradually made its way into vineyards and gained traction as a viable grape variety capable aging for up to 20-plus years. It produces a hearty grape with medium-to-high tannins, with smoky, dark fruit notes, earthy, brambly berries notes and occasionally a notes of banana and other tropical fruit.
Top South African Wines to Try
Groot Constantia Cape Ruby (Constantia, Coastal Region)
A port-style wine made from 100% Touriga Nacional grape variety, it's aged for nearly two years in old French oak barrels. A gorgeous exemplar of Cape Port wines from one the most established producers in South Africa, it is richly aromatic with notes of dried plum, cacao and spiced fruit cake.
Boplaas Family Reserve Ring of Rocks (Klein Karoo Region)
Made from three port-blend varieties, Tinta Barocca, Touriga Nacional, and Touriga Francesca the grapes are harvested in the pre-dawn hours to preserve fruit aromas. The wine is open-top fermented in cement and punched down regularly for maximum extraction. Aging in French oak for more than a year, the wine displays opulent aromas of plum, cherries, and fruit preserves, along with baking spices, herbaceous and minty notes, and dark chocolate.
Bosman Winery Sauvignon Blanc (Walker Bay, Cape South Coast)
A signature wine from this centuries-old winery, the cool-climate Sauvignon blanc exudes freshness and a distinctive herbaceous and crisp floral note in part thanks to the coastal climate as well as the indigenous Fynbos shrubs that grow in the area.
Watch a video on Sauvignon Blanc featuring this wine!
Donkiesbaai Steen Chenin Blanc (Stellenbosch, Coastal Region)
A multi-generational family-owned property, Donkiesbaai also produces olive oil, balsamic vinegar, and straw wines (raisin wines) on their farm. This rich and fruit-packed Chenin Blanc is vinified in amphora and partially aged in French oak barrels.
Babylonstoren Shiraz (Paarl, Coastal Region)
A veritable wine getaway, this sprawling historical property is one of the oldest in the Western Cape, and includes a hotel, restaurant, spa and farm in addition to its award-winning winery. The wine exudes intense and complex notes of white and black pepper, cayenne, cinnamon, violet, and deep ripe fruit.
Watch our creative wine review video.
Beaumont Family Wines Pinotage (Bot River Region)
Grapes from 40-year old vines go into the production of this cooler climate Pinotage. Open-top cement fermentation and minimal intervention really allow the wild flavors of variety to sing. 18 months of barrel fermentation lends spice and length to bright red berry notes and flavors.