DiVino may earn commissions from qualifying purchases.
Sure, you've heard of Chianti and Brunello di Montalcino. But do you what's inside your glass? Discover the grape behind some of Italy's most famous wines in our Sangiovese grape guide.
Where is Sangiovese Grown?
Sangiovese is an Italian black-skinned (red) grape variety. While generally referred to as simply Sangiovese, it actually refers to a family of clones. The most notable are Sangiovese Grosso (AKA Brunello and Prugnolo Gentile) and Sangiovese Piccolo.
Sangiovese is one of the most widely planted grapes varieties in Italy and comprises more than 11% percent of the country's vineyards. You can find it throughout Tuscany, as well as parts of Emilia-Romagna, Campania, Lazio, Umbria, and Marche.
Sangiovese has also been successfully planted in Argentina, Chile, Australia, Mexico, and California's Napa Valley and Sonoma County.
How to Pronounce Sangiovese
The origin of the name may have to do with the plant's tendency to bud early in the season, just prior to the festival day of San Giovanni Bastista (John the Baptist). Another theory points to sangue di Monte Giove. Sangue (blood) for its deep ruby red color. Monte Giove for a mountain in the region of Romagna where Sangiovese is prevalent.
Sangiovese Tasting Notes
Sangiovese is famous for its semi-transparent, vibrant ruby red color. With age the edges turn garnet to amber.
The nose is fruit-packed: strawberries, cranberries, plum, and tart cherry.
Floral notes include violet, which is ashy and green. Vegetal aromas span nightshades like bell pepper and tomato leaf, and herbaceous Mediterranean herbs like rosemary and sage.
Notes of Aged Sangiovese
With age, Sangiovese develops more complex notes of smoke, tobacco, saddle leather and spices. Fruit ripens to berry jams and sweet pie cherry. Much of this depends on how it is grown and barrel aging.

Sangiovese on the Palate
Sangiovese transforms quite a bit with age.
Young Sangiovese is typically high-acid with plucky tannins as well. The consistency feels lighter than you might expect, considering the nose.
With time, tannins relax first and the texture becomes more velvety.
Acidity takes longer to even out, but permit the wine to age gracefully and remain energetic and vibrant. The finish can be medium-long, depending on how the wine was grown and produced.
There is often a savory mineral finish (mouthwatering), especially in older Sangiovese-based wines.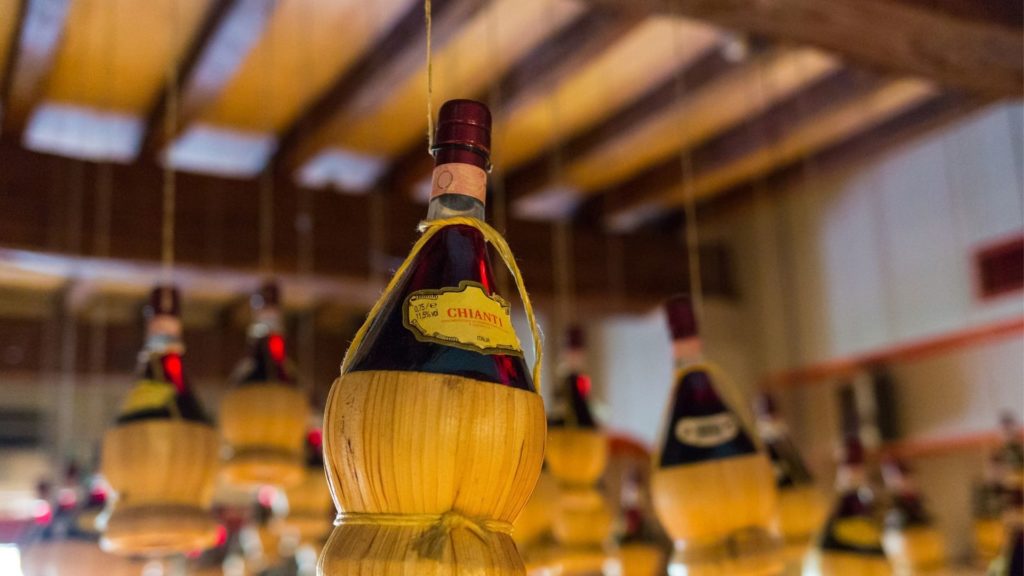 Italian Wines Made from Sangiovese
Sangiovese stands alone in many wines, but is also widely utilized as a blending grape for its sensory characteristics, impressive structure, and its ability to age and evolve.
Tuscany
Tuscany is by far the largest producer of Sangiovese-based wines. When you sit down to eat at a Tuscan trattoria, you can bet the house red wine is pure Sangiovese or a blend.
Chianti and Chianti Classico
Chianti is a relatively large production area in central Tuscany. Wines are traditionally made from all or mostly Sangiovese.
Within Chianti are several sub-appellations and classifications. A combination of factors like climate and altitude affect the quality of the grapes. Chianti Rufina, for example, is located in the northeast corner of Chianti and has a cooler almost continental climate and high altitudes. It is known for very elegant wines with major aging potential.
Watch a tasting video about Chianti Rufina.
Chianti Classico sits in the middle, between Florence and Siena, a particularly hilly area sliced through with rivers. It is a much smaller production area, delineated in part for historical reasons as well as for the quality and longevity of the wines. Wines are 80-100% Sangiovese.
Browse Chianti Classico on Wine.Com.
Chianti Classico Gran Selezione
In recent years, a new classification called Chianti Classico Gran Selezione aims to put an even tighter focus on vineyard and estate-bottled wines, much like the cru labeling system in Burgundy and Bordeaux.
The goal is to highlight the qualities of wines grown on tiny parcels and within micro-climates that make them so distinctive. Grape yields and minimum aging requirements also ensure a more mature and evolved expression of Sangiovese.
Browse Gran Selezione on Wine.Com.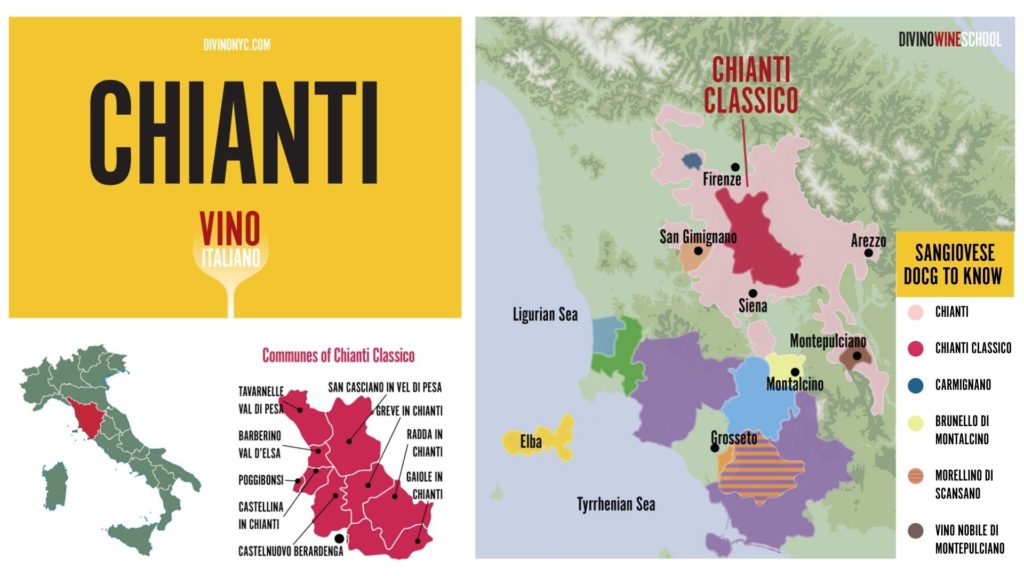 Brunello di Montalcino
Brunello is one of the notorious big B's of Italy, alongside Barolo and Barbaresco.
Enthusiasts and collectors swoon over the velveteen palate of well-aged Brunello. In fact, to qualify as a Brunello di Montalcino Docg, wines may not be released before January, 5 years after the vintage.
The tiny area is located south of Siena and has one of the warmest and driest microclimates in Tuscany. This means bold and ripe aromas and a round palate.
Browse Brunello di Montalcino on Wine.Com.
Carmignano
Min. 50-90% Sangiovese
Max. 20% Canaiolo Nero
Max. 20% Cabernet Franc or Sauvignon
Carmignano is lesser known outside of Italy. The area is located northwest of Florence and prized for its elegant expression of Sangiovese blended with local grape Canaiolo, and international varieties Cabernet Franc and Cabernet Sauvignon. The supertuscan blends we think of today were likely inspired by Carmignano.
Browse Carmignano on Wine.Com.
Vino Nobile di Montipulciano
Min. 70% Sangiovese
Not to be confused with Montepulciano d'Abruzzo, a grape variety, Montepulciano is one the oldest documented wine regions in Tuscany. The appellation was formed in part out of respect for the area's noble winemaking tradition. Not to be confused with Montepulciano d'Abruzzo, a grape variety.
Vino Nobile ages for at least 18 months, half of it in wood barrels. A great expression of Sangiovese, refined and bright.
Browse Vino Nobile di Montepulciano on Wine.Com.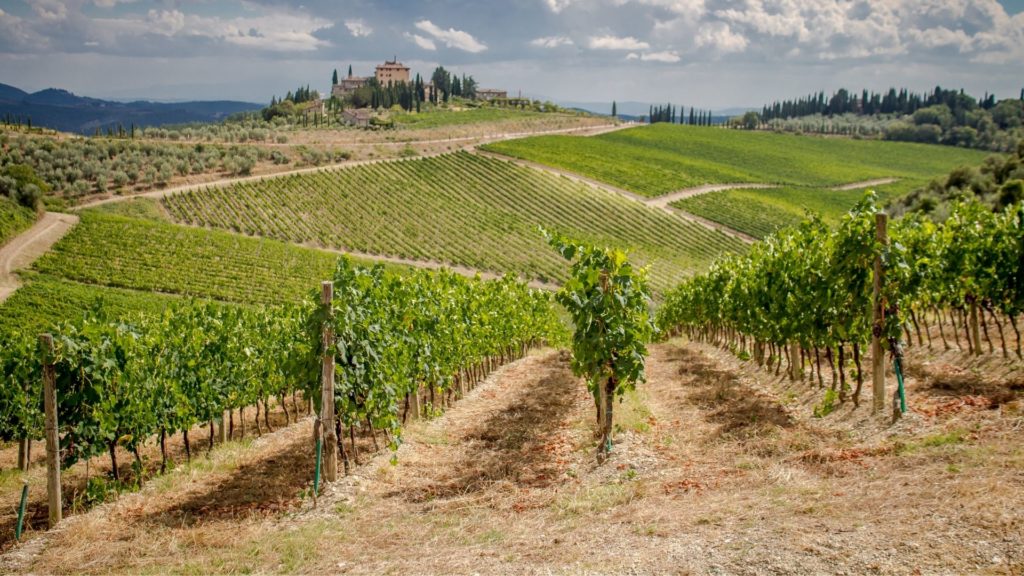 Morellino di Scansano
This appellation is named for the areas surrounding the town of Scansano. Located in the southernmost part of Tuscany, La Maremma, slopes are lower and rolling, and punctuated with mineral hot springs.
The cuisine is wild and rustic, and the wines are made to match. A bit less refined then their neighbors to the north, Morellino is bold, juicy, gamey, and extra mineral-y. A wonderful introduction to Sangiovese.
Browse Morellino di Scansano on Wine.Com.
Other Central Italian Sangiovese Wines
Sangiovese plays a major role in prized red wines throughout central Italy, especially Lazio, Umbria, Marche and Emilia-Romagna.
Rosso Piceno and Rosso Conero (Marche)
Marche is located across the peninsula and is bordered by the Adriatic sea. Both blends are dominated by Montepulciano, which is known for luscious fruity palate and cacao notes. Sangiovese brings crisp acidity (structure) and aging potential. Browse Rosso Piceno on Wine.com. Browse Rosso Conero in Wine.com
Roma DOC (Lazio)
Roma Doc is a new classification as of 2011. Designed to celebrate the history and tradition of winemaking in what was once the heart of the Roman Empire. Sangiovese has grown in Lazio for centuries, and it represents one of the principal grapes allowed in the Roma DOC Rosso (red) blend.
Download a guide to Roma DOC Wine.
Romagna DOC (Emilia-Romagna)
This area is an up and comer for Sangiovese. Located across the northeast border of Tuscany and influenced the Adriatic, wines here develop elegant aromas and plush fruit. Various sub-appellations have already emerged for their distinctive aromatic and flavor profiles thanks to diverse terrains and microclimates. For example: Romagna DOC Sottozona Sangiovese Serra. Min. 95% Sangiovese.

Sangiovese Food and Wine Pairing
Food and wine pairing is an art and a science. One important factor that is often overlooked is region and tradition. Sangiovese has been cultivated in Tuscany for centuries. The wine and food evolved together.
It makes sense that a high acid wine with bold aromas should accompany fatty, meat-based dishes like wild boar ragù.
Watch our video about how to pair food and wine.
The lighter body of Sangiovese also keeps it from masking delicate flavors of simple grilled Florentine steak or porcini mushrooms.