DiVino may earn commissions from qualifying purchases.
Bubbles on a Budget
Holidays and special occasions often call for a toast. While that may be a great excuse to shell out the big bucks on a fancy bottle, if you've got other costs to cover, your wine budget may start to dwindle. We've put together a round-up of sparkling wine recommendations to keep things festive without breaking the bank.
Not all wine are available nationwide, so we've broken them down by type, and provided links to browse online.
Why is Champagne so Expensive?
You may have heard that all Champagne is sparkling wine, but not all sparkling wine is Champagne. Sommeliers may cringe when you ask for Champagne and then order Prosecco, but there's a reason. Not all sparkling wines are created equally, and a lot factors into the price-tag.
Watch a video on how sparkling wine is made.
To sum it up, the cost of wine depends on a number of things, including:
Size of the winery
Scale of Production
Farming practices (organic, sustainable, and non)
Property taxes and insurance
Barrel aging
Packaging
Importing costs
Distribution costs
Retail and restaurant mark-ups
As you can see, finding that budget bottle of wine, sparkling or still, may mean forgoing small family wineries, fancy labels, oak aging, and earth-friendly farming practices. But it certainly doesn't have to mean forgoing flavor!
Watch a video on cheap versus expensive wines.
Does Cheap Champagne Exist?
That all depends on your idea of what's cheap and what's not. Expensive is an incredibly relative term, and not just for wine. It's a calculation of how much you appreciate any certain thing weighed against your ability to pay for it.
Appreciation, at its root, means an assessment of value. That is why you might not blink at a $300 pair of snow boots if you work in New York City, while on the other coast in Los Angeles, $30,000 is a great deal for a Toyota.
In wine and food it's no different. It is a measure of means and appreciation. Some wine connoisseurs are fortunate enough to be able to spend $100 or more on a bottle of wine at a restaurant for something they know and love or want to discover. To plenty of others that is outlandish, but they would spend three times that on a sweater. To each her own.

Finding Affordable Champagne
Champagne is an appellation, which means it refers to a place, or production area where the wine is made, and the wine can only have that name if it meets specific criteria, including the geographical location where the grape grow. That is why sparkling wines like Cava, Crémant, Prosecco, and others cannot be considered Champagne.
While they share similar characteristics, if they don't come the Champagne-producing area of France, they also aren't made with same blend of grapes, nor do they have the same distinctive aromas or flavors (also known as terroir), they simply aren't the same.
Start with Larger Producers
There's a reason you see brands like Veuve Clicquot yellow label and Moet & Chandon Imperial Brut in liquor stores across the land. Even your corner wine store can afford to carry them, and must not have trouble selling them either. That's because both are part of a larger conglomerates and make huge quantities of wine.
Both brands produce proper Champagne, with all the signature notes and flavors, but perhaps fewer complexities or truly distinctive qualities that come with smaller and boutique Champagne houses.
Other Champagnes that come in under the $50 mark include Nicolas Feuillatte and Laurent-Perrier La Cuvee Brut.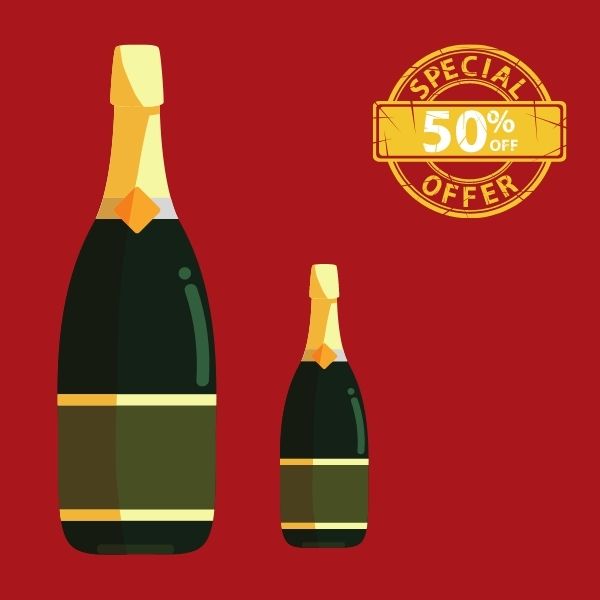 Buy Half Bottles
Not everyone can finish a bottle of wine in one night, let alone costly sparkling wines that will lose their luster the next day.
A great way to experience Champagne at half the cost is to buy half the bottle. Many brands feature half bottles, and they usually start around $25.
Other Classic Method Sparkling Wines
Classic method, also known as the Champagne method, or Méthode Champenoise, is always costly, as it is a very involved process and it takes years. To make these wines, with their concentrated and creamy bubbles, and complex aromas of toast, brioche, and chalky minerality, a second fermentation happens inside each bottle followed by several more steps before the wine can be packed and sold. Many countries produce classic method sparkling wines, including the USA.
Cava
You can find wines made like Champagne all over the world at a variety of price points. Spanish Cava, for example is made like Champagne, but with different grapes, in a large producing area, with a wholly different set of production standards. Not all Cava is equal of course, but if you're looking for that tight fizz and toasty aromas, you can usually find one for less than $20.
Franciacorta
Another classic method wine to try is Franciacorta, Italy's answer to Champagne. A fairly new appellation, there's a lot to discover, and new products are still entering the US market. Expect to spend between $25-$50 a bottle.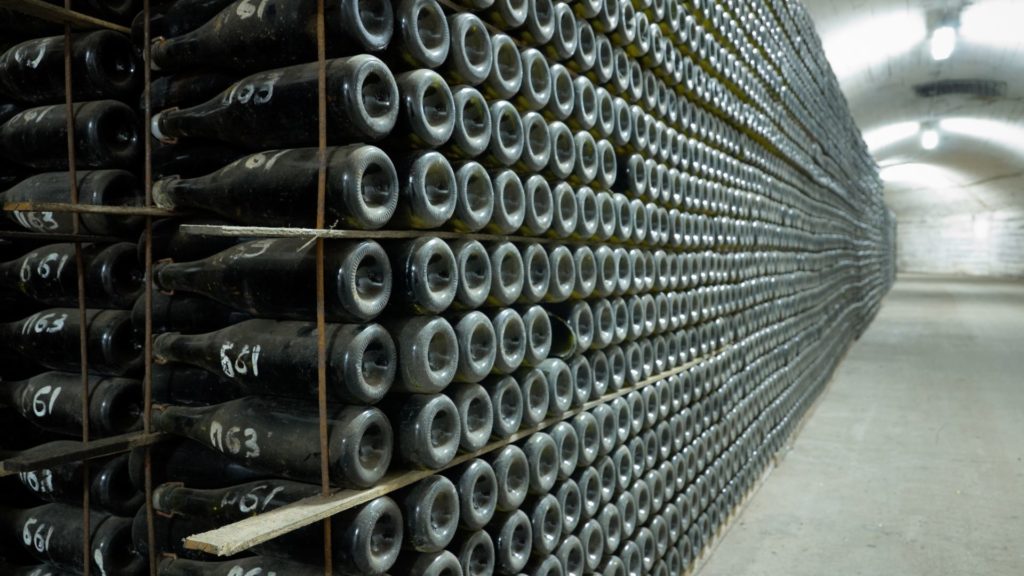 Crémant
Another way to get a little closer to Champagne without splurging is to try a Crémant. A French winemaking term that denotes a wine made in Méthode Champenoise, crémant is usually followed by its region to distinguish the appellation, for example: Crémant de Loire or Crémant de Bourgogne. Crémant can be made from a number of different grape varieties and age for longer or shorter periods of time depending on the appellation standards and the winemakers' choices. They rarely run you past $50, and many delicious ones start in the $20s.
Tank Method Sparkling Wines
Wines made in tank method, also known as the Charmat method, are much easier to produce and far less expensive. Prosecco is the most popular sparkling wine made this way, and they can be found under $10, though I recommend starting somewhere in the teens.
In the Charmat process, wine is re-fermented in a large, sealed tank for a few months at the most, just enough time to get that naturally occurring effervescence and some of those yeasty aromas.
Fewer and Bigger Bubbles
Wines like Prosecco don't spend much time under pressure, which is why they may start off fizzy, but the bubbles (perlage) dissipate more quickly than in Classic Method wines that have been building pressure, along with all those aromas, for months or years.
Younger Fresher Fruit
Because these wines are ready sooner, they exhibit younger, fresher, brighter fruit notes like pear, apple, and citrus, and less of the toasty, brioche-like aromas you get in the classic method. Depending on the wine, they may also be higher in acidity, and that zesty, fruity, brightness is exactly what makes them so popular. Inexpensive, light, lively and fresh! It's a win-win.